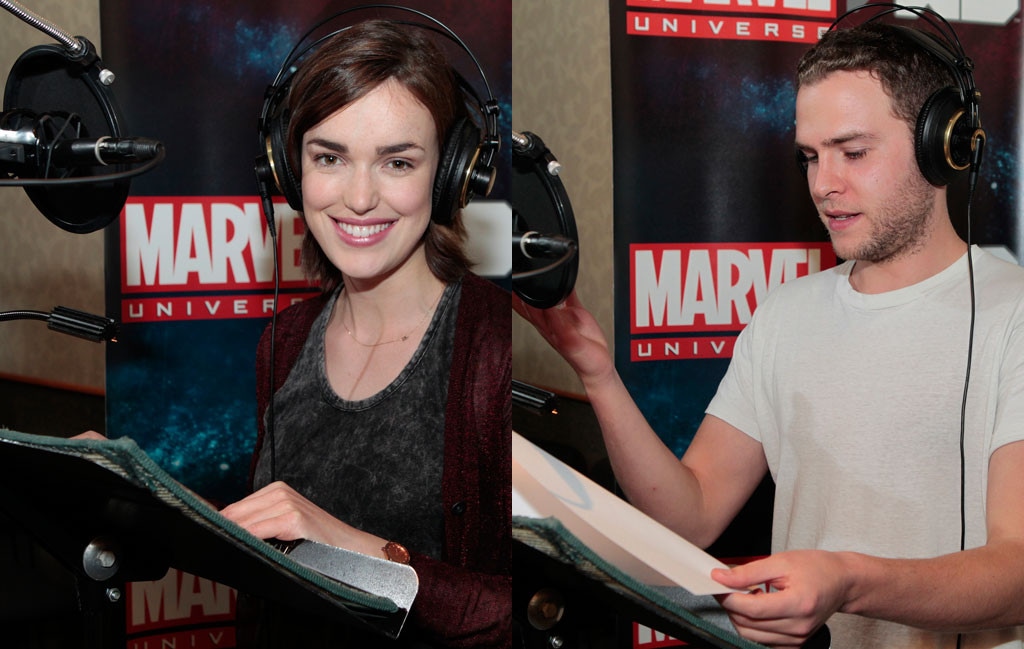 Marvel
Get ready to see Agents of S.H.I.E.L.D.'s FitzSimmons like you've never seen them before.
Everyone's favorite lovebird lab rats are getting animated for an upcoming episode of Disney XD's Marvel's Ultimate Spider-Man Vs. The Sinister 6 and E! News has your first look at Elizabeth Henstridge and Iain de Caestecker's cartoon counterparts! 
In the March 13 episode of the animated hit's fourth season, de Caestecker's Leo Fitz and Henstridge's Jemma Simmons find themselves wrapped up in the adventure when Vulture's revelation that Doc Ock has a spy inside S.H.I.E.L.D. Academy leads the Web Warriors on a hunt to find the mole. When they confront Dr. Curt Connors, he turns himself into The Lizard and attacks S.H.I.E.L.D. with a venomous bite that spreads like a virus and turns its victims into lizards. 
Henstridge and de Caestecker's trip to the animated world of Disney XD's Ultimate Spider-Man marks the second crossover between the two shows. Clark Gregg has appeared as Phil Coulson in 29 episodes of the series, which focuses on Peter Parker (Drake Bell), now a successful hero fighting alongside The Avengers who's also a S.H.I.E.L.D. Academy leader. 
Meanwhile, S.H.I.E.L.D. fans are awaiting the midseason premiere of the ABC series to see how Jemma handles Fitz and Coulson coming back from the alien planet without her beloved Will—and how she handles learning that there was no Will to rescue.
Marvel's Ultimate Spider-Man Vs. The Sinister 6 airs Sundays at 9 a.m. on Disney XD, while Agents of S.H.I.E.L.D. returns Tuesday, March 8 at 9 p.m. on ABC.
Watch:
Clark Gregg and Chloe Bennet Tell All on "Agents" Season 3