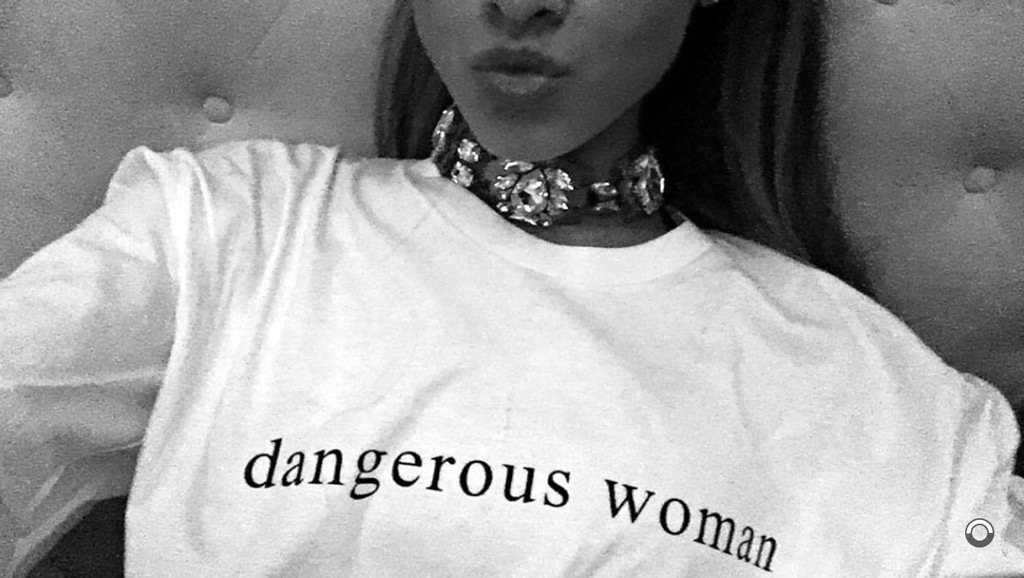 Snapchat
Ariana Grande may have just revealed the new title of her upcoming album.
The 22-year-old singer had originally named her third album Moonlight, but it appears she's decided to change it to something a little more...dangerous.
Taking to Snapchat to share a few photos, Grande donned a shirt with the words "dangerous woman" printed across it. She followed that with a snap of what appeared to be a track list written on a white board with "DANGEROUS WOMAN" in all caps at the top. The first song was listed as "Moonlight."
It seems safe to say she's decided upon Dangerous Woman as the title of her upcoming album, and the change really shouldn't come as a huge surprise to her fans.
While visiting Jimmy Kimmel Live! back in January, she hinted that she wasn't settled on Moonlight, and she didn't think her fans were either. "As we're wrapping things up, of course I've been writing and singing, we're at the final stretch," she explained. "Now there's this other song that has thrown me for a whirlwind and I love it so much, it's changed everything."
Meanwhile, though Grande fans have been anxiously awaiting the new album, they were given a little something to keep them happy last month.
The singer's ex, Nathan Sykes, released a remix of his song "Over and Over Again," which features Grande's incredible vocals. Not to mention, it sent everyone into a whirlwind of gossiping over the fact that the exes had reunited for the gorgeous tune.
"It's such a special song to me," Sykes said in a statement, settling the rumors of any relationship by adding, "I'm delighted that I'm able to share this with not only a friend of mine but also somebody who is incredibly talented."