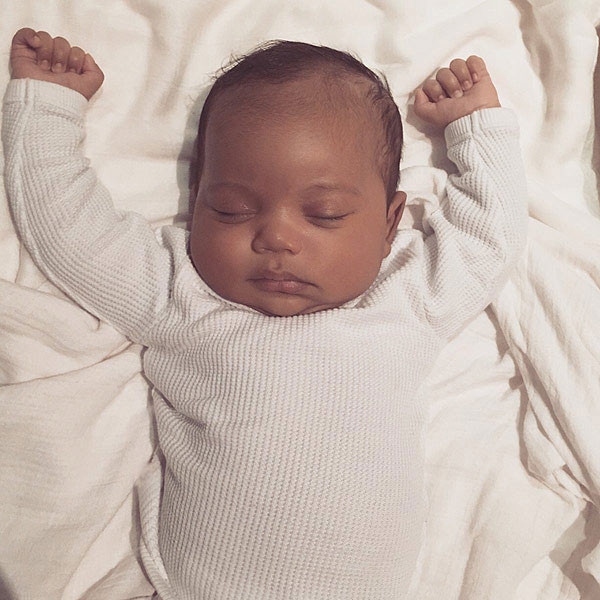 kimkardashianwest.com
Meet Saint West!
Kim Kardashian shared the first photo of her son Saint on her app and website Monday morning. The adorable pic shows Saint sleeping soundly with his arms raised above his head. He's wearing a cozy white onesie.
"Today is my dad's birthday. I know there's nothing more in the world he would have wanted than to meet his grandchildren. So I wanted to share this pic of Saint with you all," the proud mom-of-two wrote alongside the photo.
So cute!
Kim gave birth to Saint on Dec. 5 had previously given fans a small look at his adorable hand wrapped around big sister North West's hand and said they were very quickly becoming the best of friends. Despite their adorable sibling bonding, Kim has still said that these two can be a bit of a handful. "I'm up at 4 a.m., pumping and delirious, hiding in my daughter's closet because if she sees I snuck out of her bed, she will start to cry," Kim began a previous blog post. "My mom would always say, about having kids: 'One is like one, and two are like twenty.' I never really understood that until now."
But with two kids vying for her attention instead of one, Kim explained she would go overboard in making sure both of her tots received equal attention. "When I had North, all I did was feed and sleep. This time around, I get no sleep. Every waking second that I'm not with the baby, I'm with North," she continued. "I actually think the harder parts aren't with the newborn but with the toddler! I feel like I go into overdrive to give my daughter attention and make her feel loved."
Fortunately, she has had the help from her husband, Kanye West, and her own siblings. Even Kourtney Kardashian's kids have given a helping hand, as Penelope Disick often gives North sisterly advice! These kids are just so wise.
Saint, nearly three months old, has been a busy bee with his big sis, as Kanye named them both "creative consultants" on his latest album, The Life of Pablo. While we doubt they had any real say on the lyrics, we're sure they served as some serious inspiration to their dad.