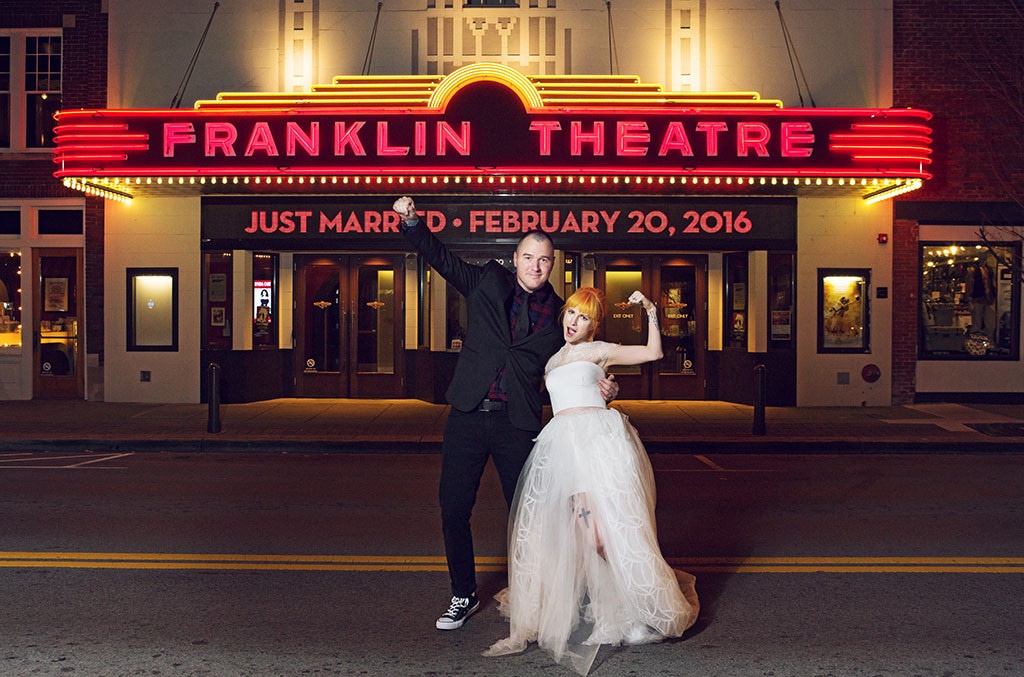 David Bean / www.visualreserve.com
Congrats to Hayley Williams and Chad Gilbert!
The 27-year-old Paramore singer and 34-year-old New Found Glory guitarist wed at the Franklin Theater in Nashville Saturday, E! News has confirmed.
The two began dating in 2008 and got engaged in December 2014. Williams and Gilbert applied for a marriage license in Tennessee last month, USA Today had reported.
Several eyewitnesses and fans posted on social media adorable photos from their wedding ceremony and the reception.
The bride and groom are seen exchanging vows in front of about 50 people inside the theater. They were also photographed dancing indoors, kissing and looking very much in love. Williams wore a white chiffon Vera Wang wedding dress, paired with Doc Marten Jadon boots, while her beau sported an all-black suit and a tartan Ben Sherman shirt.
David Bean / www.visualreserve.com
The reception was held at Puckett's Grocery & Restaurant in downtown Nashville. Williams wore a striped Topshop skirt, a white UNIF T-shirt with "Chad" written in red and Vans custom hi-tops.
The two were also photographed tasting their wedding cake, which was made up of three tiers of 100 doughtnuts bearing quotes such as "I like your butt," made by Five Daughters Bakery. It also featured a topper made up of Super 7 Funko Reaction Figures—Leeloo from The Fifth Element and Sloth from The Goonies.
David Bean / www.visualreserve.com
David Bean / www.visualreserve.com