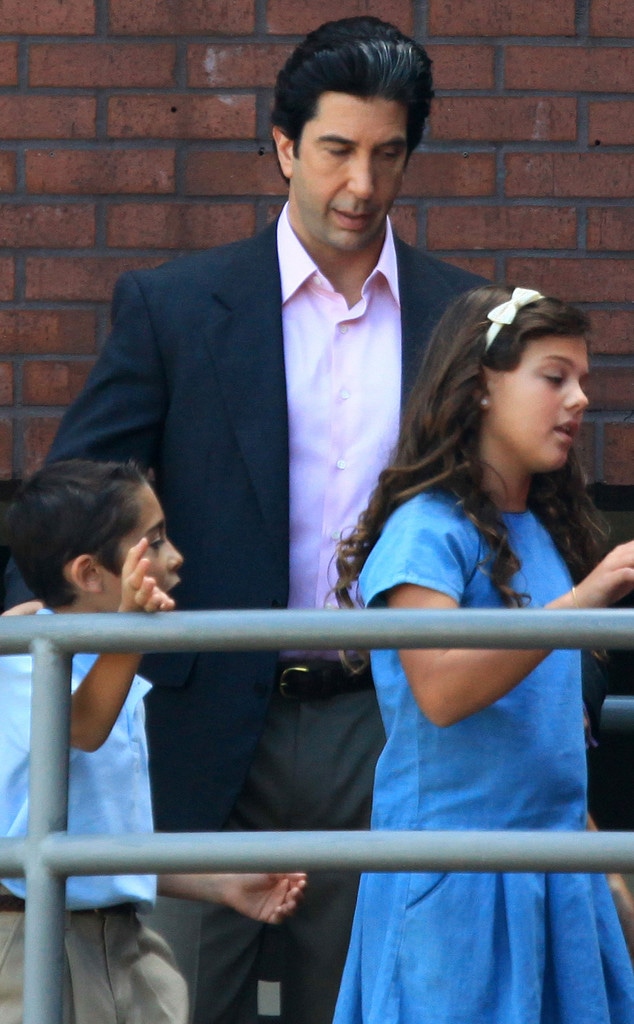 FAMEFLYNET PICTURES
We know The People v. O.J. Simpson: American Crime Story is all about the "Trial of the Century," and the facts of what actually happened could not be more fascinating.
Also fascinating? Tonight's opening scene in which we saw the Kardashian kids get a heartfelt talking-to about fame from their father Robert.
In the scene, Robert Kardashian (David Scwimmer) takes a young Khloe, Kim, Kourtney and Rob to Chin Chin restaurant on Father's Day 1994. It's crowded, but the hostess recognizes Robert as "The O.J. guy"—as he had just been seen on live TV reading O.J.'s suicide letter—and gives the family the table of their choice, right away. "Oh my God, we don't have to wait!" Rob Jr. beams. In the show, it's the first time the Kardashian kids see their father as someone famous, and Robert turns it into a teaching moment about fame.
"We are Kardashians," Robert tells the children as they eat their chow mein, "and in this family, being a good person and a loyal friend is more important than being famous. Fame is fleeting, it's hollow. It means nothing at all without a virtuous heart."
So…Did that restaurant moment actually happen?
"It was a fictionalized moment by the writers," Schwimmer exclusively tells E! News. "But it was important for them and for us to show what was happening with Robert. The goal is to humanize all these characters, and for my character, part of that journey was being on camera for the first time in his life. He was a very modest, private person. Not a public person. So, his relationship to celebrity was something we thought, 'Well, that has to be explored.'"
So far, The People v. O.J. Simpson has portrayed Robert Kardashian in a positive light, showing him as a deeply spiritual man who truly thought O.J. was innocent and stayed loyal to his friend, renewing his legal license and becoming part of O.J.'s Dream Team. This commentary on loyalty also speaks to why Robert stuck by O.J.'s side, despite the mounting evidence against him.
And to add irony on top of irony, of course, the speech is being delivered by a man who in real life, is one of the most instantly recognizable faces on the planet (our friend Ross Gellar). 
It is fiction. But fascinating fiction at that.
Kardashian family history aside, Schwimmer says that the main reason he wanted to do the FX miniseries was to help dig into more serious issues. "I'm hoping that the show over the 10 episodes will contribute to the conversation we're having as a country about race, and ask the question, 'Have things changed in 20 years?'" he tells E! News. "When I read the first two scripts I thought, 'Wow, this is an opportunity to really...it just felt really relevant and timely."