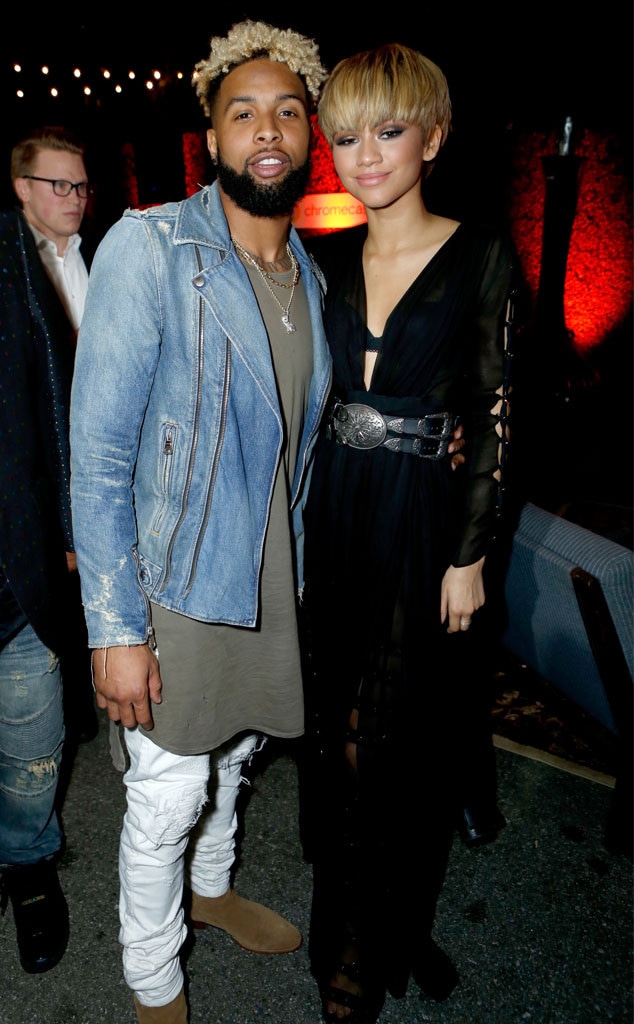 Randy Shropshire/Getty Images for Republic Records
We might have a new couple on our hands!
Zendaya and Odell Beckham Jr. made a statement Monday night at Universal Music Group's 2016 Grammy Awards after-party, cozying up to each other and posing for pics. The Disney darling and her NFL stud entered the party together and spent the majority of the evening arm-in-arm as photographers took their photo, so are they a new couple?
According to an eyewitness, "They were close, whispering in each other's ears and maintaining a very flirty vibe." Zendaya—who brought her dad to the party—left the party around 1 a.m., as did Beckham.
The 19-year-old singer hasn't been officially linked to anyone before, but she previously told Complex that she has been the subject of many romance rumors. "Any male that I've ever been around in my life, if they follow me on Twitter, if they look at me, if they breathe the same air as me, we've dated," she said in the December 2015/January 2016 issue, adding that she did not have a boyfriend.
"You've got to realize my schedule is kind of nuts. I don't have time to go out and get to know somebody," she continued. "If I didn't know you from the last three or four years of my life, it's probably too late." 
Well maybe not too late, as these two definitely turned heads at the after-party.
The New York Giants player, 23, was rumored to have been dating Amber Rose in the fall, but nothing serious ever came of it given his intense football schedule. "Amber Rose and Beckham Jr. met a few months ago and they have been talking recently in a more romantic way," an insider told E! News in September. "They don't have any titles as of yet but are enjoying the free time that Beckham has."
The source added, "His main focus now is football and doing the best he can for his team. That's his number one priority at this moment. He hopes this year will be extremely successful and on point. He has been working really hard training and can't wait for the season to begin!"
Now that football is over for a bit, perhaps he'll be spending more time with Zendaya.
E! News has reached out to the stars' reps for comment.
Watch:
Zendaya Talks Music Collaboration With Chris Brown
Watch E!'s live 2016 Grammys red carpet coverage starting at 4 p.m. ET/1 p.m. PT on Monday, February 15th