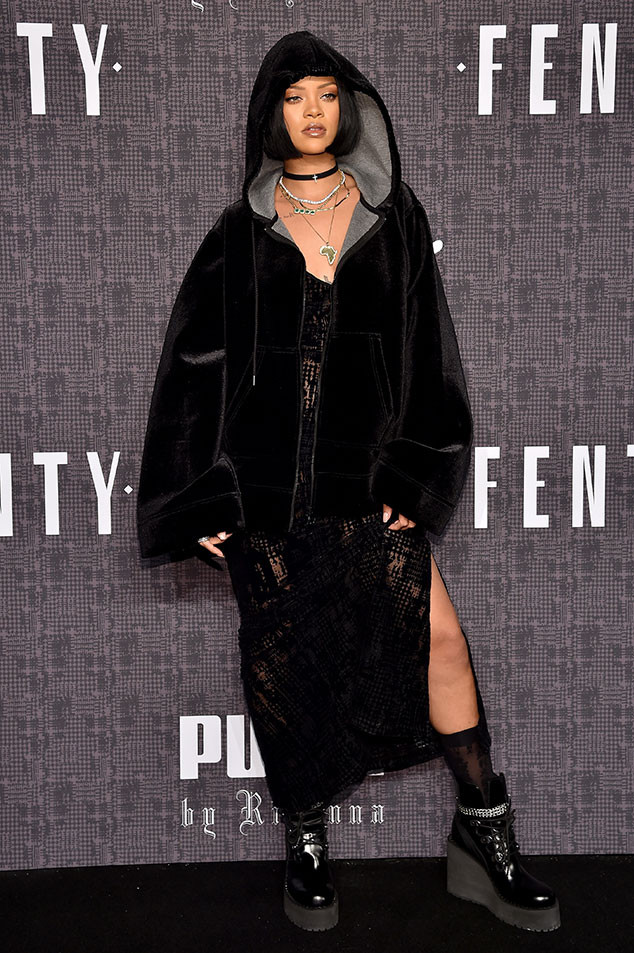 Dimitrios Kambouris/Getty Images for FENTY PUMA
UPDATE: Rihanna has just tweeted the following to her fans regarding her cancelled Grammys performance:
"#NAVY so sorry I couldn't be there ..... Thanks Grammys and CBS for your support tonight."
________
Say it isn't so! Rihanna has cancelled her performance at the 2016 Grammys. The singer's rep confirmed in a statement to E! News, saying, "Based on Rihanna's examination, after Grammy rehearsal today, Rihanna's doctor put her on vocal rest for 48-hours because she was at risk of hemorrhaging her vocal chords. The antibiotics she has been on for 3-days did not kill the infection adequately therefore she cannot perform safely."
Sources tell us that she arrived for rehearsals but decided to cancel at the last minute.
TMZ reports the singer did not walk the red carpet and the 27-year-old made it to rehearsals but left. Sources told TMZ the singer has been dealing with bronchitis, and that an on-site doctor recommended RiRi not follow through with her scheduled performance.
The singer was at MusiCares this weekend honoring Lionel Richie. Richie was honored at the 2016 Grammy's during a tribute performance put on by Demi Lovato, Luke Bryan, Tyrese, John Legend and Meghan Trainor. Richie joined the pack on stage after being serenaded in the audience.