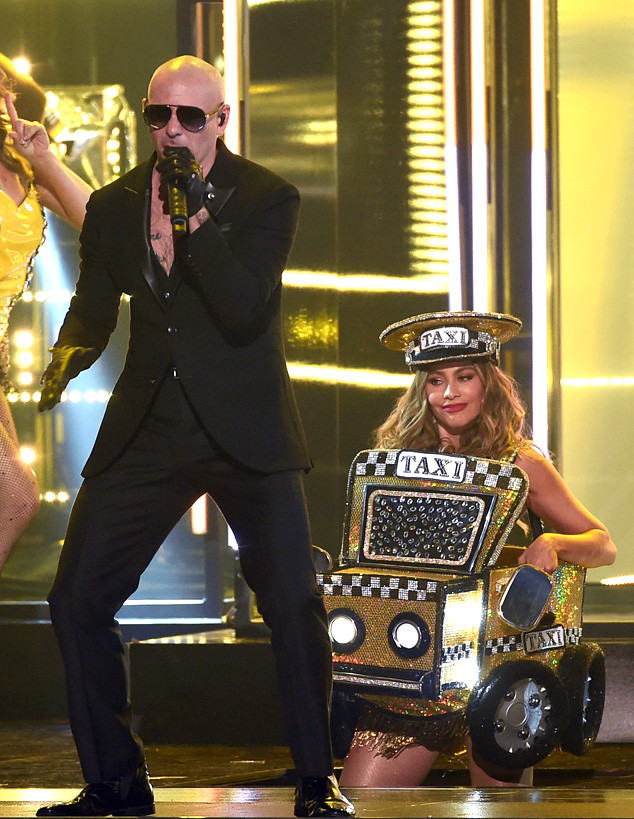 Kevin Winter/WireImage
Mr. 305 deserves a high-five for this huge surprise!
The 2016 Grammy Awards came to a close Sunday night after Pitbull took to the stage for a special performance with a few famous faces.
While we knew Robin Thicke, Travis Barker and Joe Perry were joining in on the dance party, we didn't exactly predict Sofia Vergara's visit to the stage!
"I'm talking Caribbean Queen you a bronze Jamaican / and Colombians you guessed it in Queens," Pitbull sang during the performance before the Modern Family star arrived in a yellow sparkling dress underneath a mock taxi cab. "She's fine, that's something you've never seen / She's fine like something straight out of a magazine / She's fine like Sofía Vergara."
What comes next is a solid minute of Sofía shaking her booty next to Pitbull as he performs a brand-new single. And if you're wondering if the two had fun, their look at the end proves they had the "Time of Their Lives."