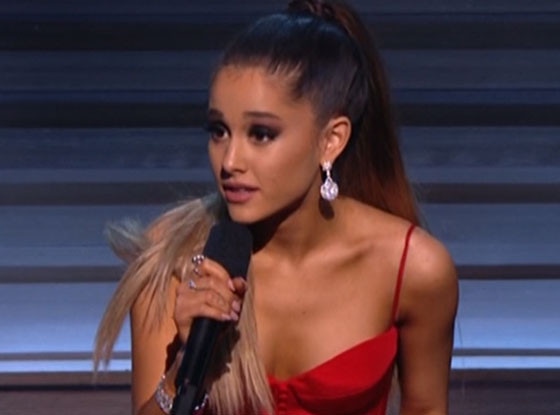 CBS
We have to hand it to Ariana Grande... she tried her best to sell that joke she was given at the 2016 Grammy Awards.
Unfortunately, it was still a bit awkward.
While introducing The Weeknd's performance of "Earned It" at the 58th Grammy Awards at the Staples Center in Los Angeles, the 22-year-old singer walked out ready for laughs.
"How did this next performer land his 7 nominations tonight, including Album of the Year and Song of the Year," Grande asked the crowd.
"Well, ladies and gentlemen, get ready for the pun of the century... he earned it."
The pun wasn't met with much of an audible reaction from the crowd, unfortunately, but Grande drove it home with a little a capella line from "Earned It."
Grande then let out a giggle as she turned it over to the "Can't Feel My Face" singer.
It's OK, girl. No one's expecting a pun to bring the house down at the Grammys.
Luckily things were a little less shaky for The Weeknd, as he earned a standing ovation for his first-ever Grammys performance with an acoustic performance.
No joke about that.
Watch E! After Party: The 2016 Grammys at 11:30 p.m. ET / 8:30 p.m. PT. And don't miss the Fashion Police Grammy Awards special Tuesday at 8 p.m. only on E!
Watch:
2016 Grammy Awards Fashion Round-Up