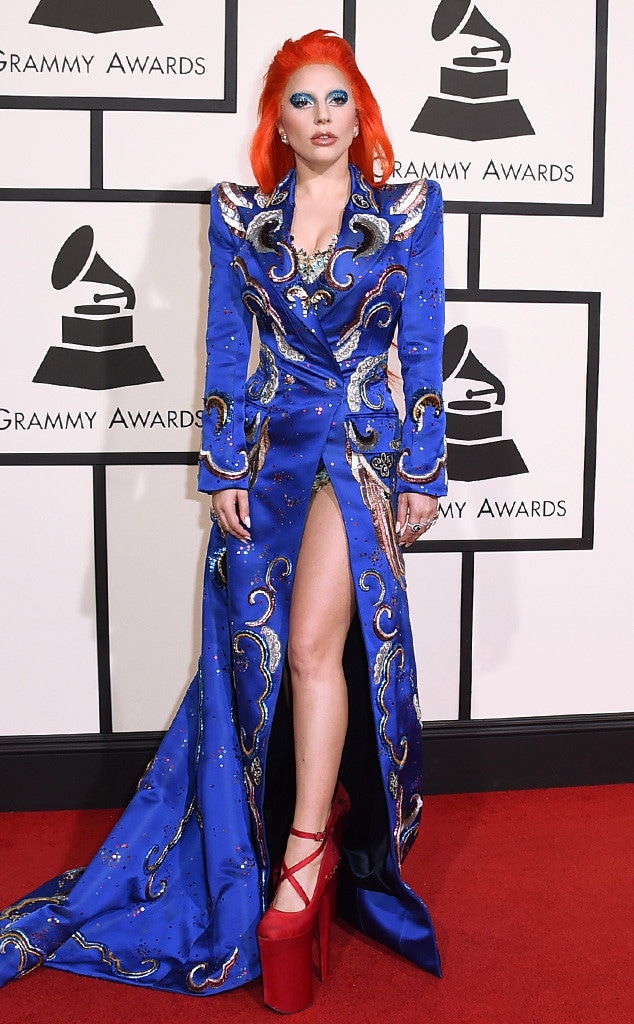 Jordan Strauss/Invision/AP
Lady Gaga's tribute to David Bowie started on the 2016 Grammys red carpet.
The 29-year-old pop star channeled the late singer by wearing an orange wig, a leotard, a bedazzled Marc Jacobs blazer and platform heels, a nod to Bowie's Ziggy Stardust era. Prior to her arrival at L.A.'s Staples Center, Gaga shared two Snapchat videos of herself crying in the makeup chair while listening to Bowie's "Backstar" and "Church." On Saturday, Gaga commissioned celebrity tattoo artist Mark Mahoney to ink Bowie's likeness (from his Aladdin Sane album cover) on the left side of her torso. She Snapchatted the inking, captioning one shot, "This was the image that changed my life," and in another, "Hail Mary full of grace Saint Bowie."
Gaga will sing some of Bowie's biggest hits later tonight.
At the Recording Academy and Clive Davis' Pre-Grammy Gala Sunday night, E! News' Marc Malkin got intel on Gaga's performance from Neil Portnoy, president of the National Academy of Recording Arts and Sciences. "She will take us through quite a bit of history of David Bowie's repertoire. It's one of the longest, larger segments of the night," Portnoy said. "There's some very exciting brand new technology that's never been seen on television that will be a part of the segment."
As if Gaga would settle for anything less.
Bowie influenced Gaga's artistry early on. Not long before he died in January at age 69 following a long battle with cancer, the "Born This Way" singer told The Hollywood Reporter, "When I fell in love with David Bowie, when I was living on the Lower East Side, I always felt that his glamor was something he was using to express a message to people that was very healing for their souls. He is a true, true artist and I don't know if I ever went, 'Oh, I'm going to be that way like this,' or if I arrived upon it slowly, realizing it was my calling and that's what drew me to him."
E!'s Grammy Awards coverage starts today at 4 p.m. ET / 1 p.m. PT. E! Online's Live From the Red Carpet Livestream begins at 5:55 p.m. ET / 2:55 p.m. PT. Plus, watch E! After Party: The 2016 Grammys at 11:30 p.m. ET / 8:30 p.m. PT. And don't miss the Fashion Police Grammy Awards special Tuesday at 8 p.m. only on E!