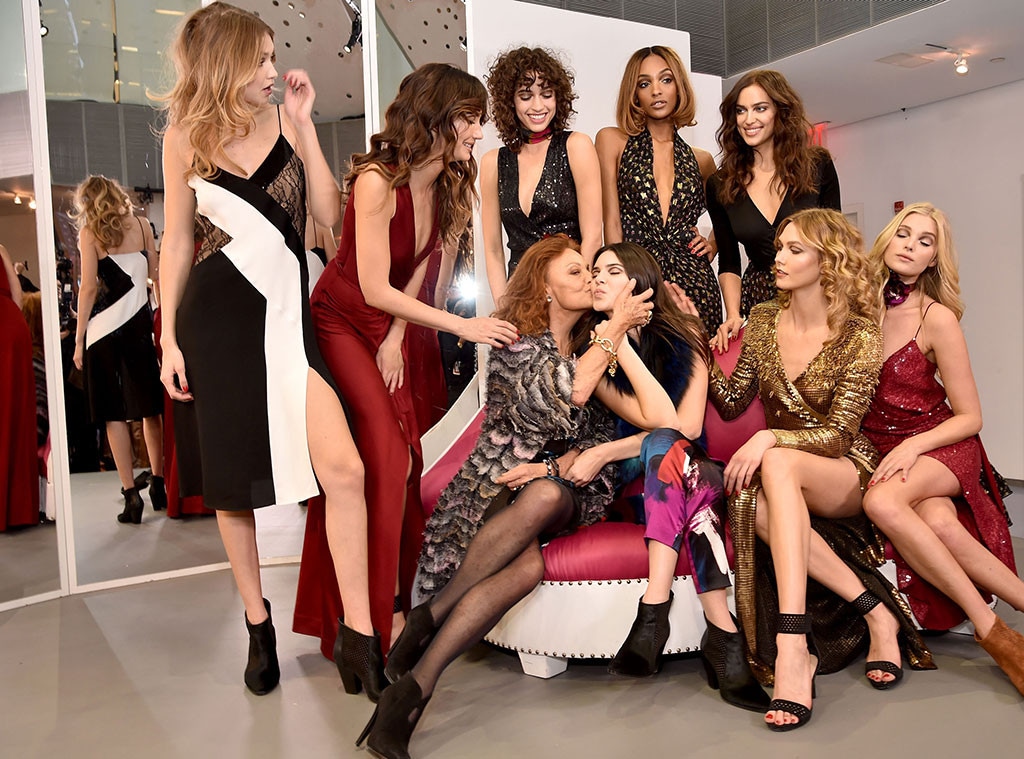 Dimitrios Kambouris/Getty Images
Forget about the high heels. Diane von Furstenberg's fashion show is all about the dancing shoes!
While showcasing her newest collection at New York Fashion Week Sunday afternoon, the world-famous designer and House of DVF star put any and all stresses behind her when she participated in a dance party with her supermodels.
In several Instagrams posted on social media, fashion lovers can spot Gigi Hadid, Kendall Jenner, Lily Aldridge, Karlie Kloss and more having a little innocent fun on the runway.
Whether singing to Whitney Houston's "I'm Every Woman" or enjoying an impromptu disco train, these ladies had no problem showing off their looks while also moving to the beat.
What's more? Lily managed to start a conga line and Gigi led a singalong with makeup brushes serving as microphones. Not your average runway show, are we right?
After the show, the fun was only going to continue for several of the ladies. When asked how she was going to celebrate the rest of her Valentine's Day, Lily confessed she's hanging out with her girl Gigi!
"I have a Valentine's date with Gigi," she told E! News' Catt Sadler exclusively. "She's cooking dinner. She's amazing."
It's an added bonus to a busy day that Lily hopes to never forget anytime soon. "This show was amazing," she explained. "I was with my girls. It was very fun. I'm so thankful they had me."
She continued, "We like to have fun. We like to dance. It was a really special night. I have to say it was one of the most special memories because it was so different for us and it was really nice."
Luckily, there's plenty of video to capture all the moves. And yes, there's also a few selfies that are totally Instagram approved.
 "Right now, Elevator selfies with these beauties and Queen @dvf," Irina Shayk shared on Instagram. "@lilyaldridge @officialjdunn @karliekloss @kendalljenner @gigihadid  #DVF #DianeVonFurstenberg."
Watch:
Lily Aldridge's Special Valentine's Date