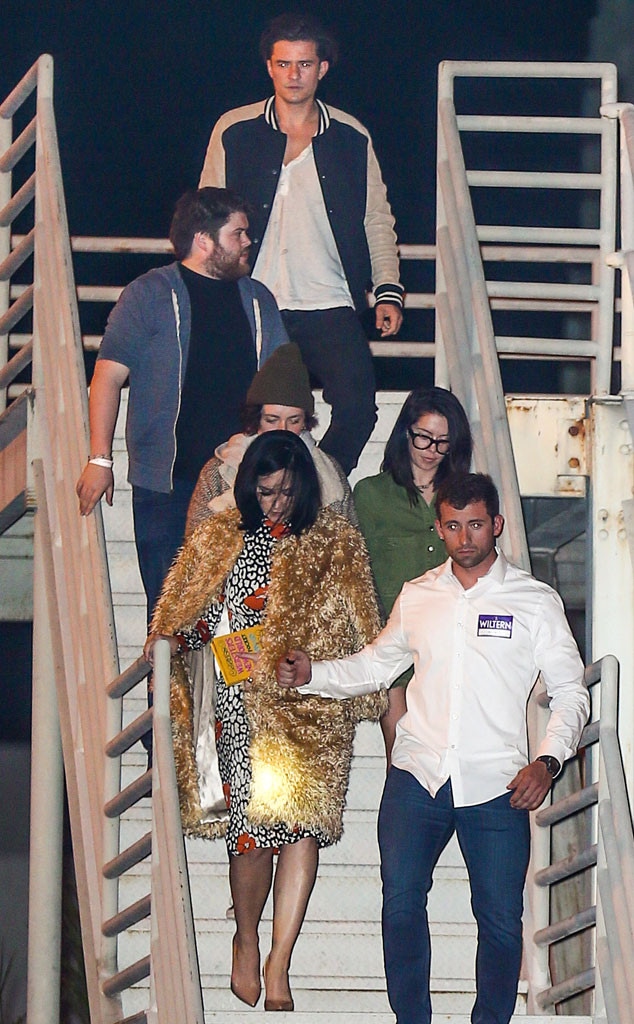 PapJuice/WOW/INFphoto.com
Er, awkward?
Katy Perry and Orlando Bloom reunited again, on Friday night, while John Mayer wasn't too far away.
Perry, 31, and Bloom, 39, who have sparked romance rumors for more than a month, were recently seen together at Adele's sold-out concert at the Wiltern in Los Angeles Friday. They were photographed leaving the venue with several other people. That night, Mayer, 38, was spotted walking with a mystery girl, who wore a Tupac T-shirt, outside the theater.
He and Perry dated on and off since 2012 and were last seen together just before New Year's Eve, at the Nice Guy restaurant in West Hollywood. Two weeks later, she hung out with Bloom at a 2016 Golden Globes after party. The two have since been spotted together sporadically. No star has ever confirmed a relationship or breakup and all have opted to keep their personal lives private. 
Late that night, Mayer was also spotted with the same woman at The Nice Guy restaurant...yep, the same place where he was last seen with Perry.
Perry and Bloom sat together at the Adele concert, as seen in a photo and video a fan posted on Twitter.
The actor "seemed very happy," a source told E! News exclusively.
"He would lean in to tell her stuff and at one point they said hi to Tom Hanks who was sitting near them," the source said. "They were enjoying the concert. They seemed happy together."
PapJuice/WOW/INFphoto.com
Also spotted at the Adele concert: Jennifer Lawrence, 25, her Hunger Games co-star Woody Harrelson, 54, and Emma Stone, 27.
PapJuice/WOW/INFphoto.com
After the concert, Adele stuck her head outside a window of the theater and greeted and thanked fans on the sidewalk below.