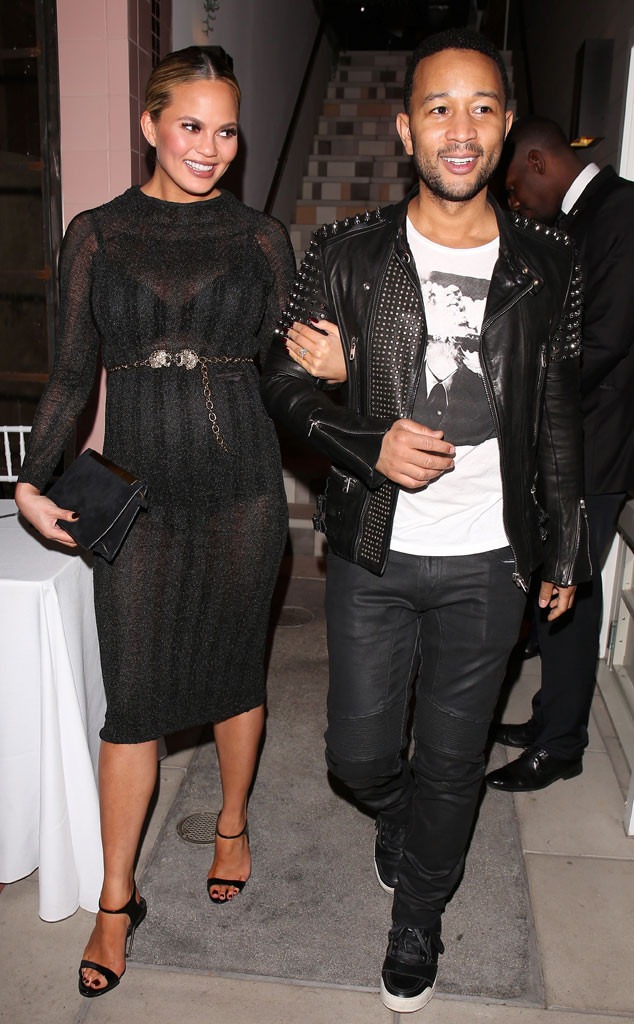 DEBY / AKM-GSI
Being a model, a social media superstar and the author of a new cookbook, Chrissy Teigen has quite a few duties already chalked up on her long to-do list…but one thing she won't have to add? Diaper duty!
Yes, the FabLife host sat down with E! News' Zuri Hall during her photoshoot for TRESemme's new Beauty Full Volume collection and admitted that John Legend has absolutely no qualms in dealing with poop!
"Oh gosh! He's not afraid to touch poop, pick it up," she laughed, adding, "He'll bare-hand it, it doesn't matter!"
Gross! But hey, that's a good quality to have in a soon-to-be-daddy!
And speaking of being first-time parents, Chrissy says they're really not that worried about mixing a child into their busy schedules.
She explained, "I like a little chaos in life. Then baby came into our world, and we were like, 'That's cool but let's do more!'" Not to mention, she said, "I actually have more energy now than before I was pregnant."
One thing they're hoping to do right away with their little one is get her acquainted with their jet-setter lifestyle at an early age.
"I want to get her into traveling really young," Chrissy revealed. "As soon as someone even steps on the plane with a baby you're like, 'Ughhh! I feel bad for them!' And that's going to be us now."
Chris Pizzello/Invision/AP
Meanwhile, Chrissy and John announced their pregnancy in October and are expecting their little one—a baby girl!—sometime this spring.
However, her growing baby bump hasn't stopped her from maintaining a jam-packed schedule. From attending the NAACP Awards last week to hanging with members of the Kardashian clan to modeling her bump on magazine covers, Chrissy can't stop, won't stop!
Well…that is until the little one finally arrives. We're guessing she'll set some time aside to spend with her little nugget (and we can't wait)!