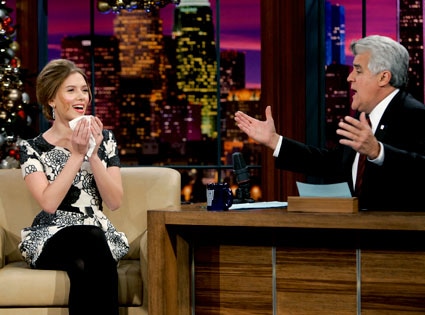 NBC Photo: Paul Drinkwater
Ew. And...ew, again.
Yeah, it's for a great cause and all, but has our celebrity-engrossed culture sunk so low that someone will consider bidding on Scarlett Johansson's snot rag?
NBC announced Wednesday that the tissue the Spirit star used to blow her nose during her latest appearance on the Tonight Show—relief from the cold she caught from costar Samuel L. Jackson, she says—will be put up for auction tomorrow on eBay, with all proceeds going to the food-gathering charity USA Harvest.
How about, instead of bidding on a piece of garbage (no matter how glamorously star-DNA-stained it may be), you just donate directly to the cause—in ScarJo's name, if you like!—and call it a happy holiday?
Yes, that means abandoning all devious plans to clone the actress or tear the tissue into tiny pieces and turn a profit, but if Jackson's winter cold becomes the gift that keeps on giving this season, what stops 2009 from becoming the year of Britney Spears' hair or Justin Timberlake's half-eaten French toast?