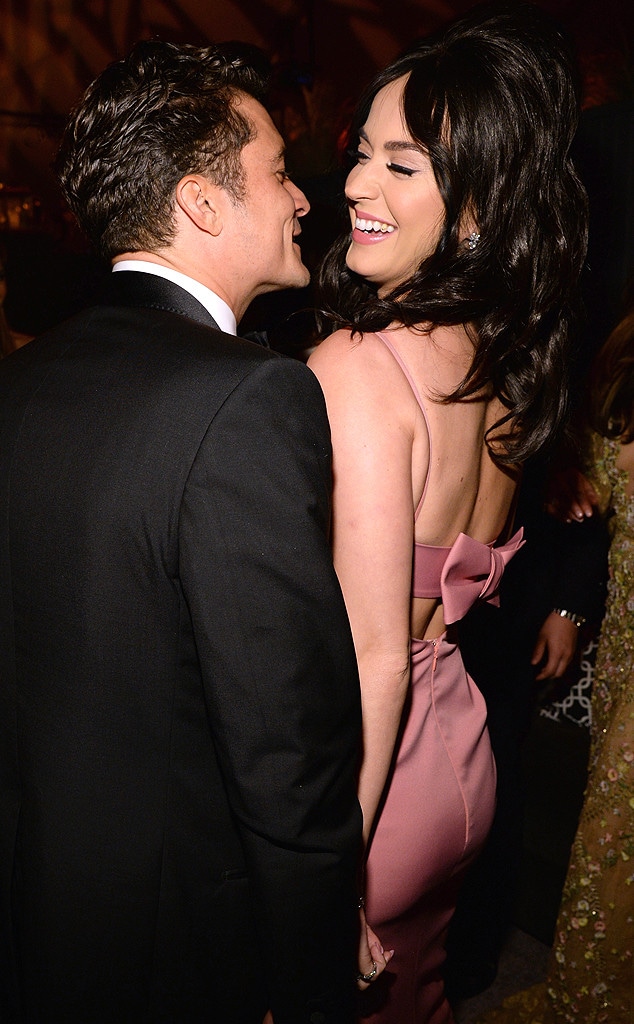 Kevin Mazur/Getty Images for The Weinstein Company
It's the Hollywood romance very few saw coming!
After all the awards were handed out at the 2016 Golden Globes last month, Katy Perry and Orlando Bloom just so happened to attend the same after-party.
Before you call it a casual run-in, however, E! News learned that the two spent a ton of time talking together in a VIP section of the party. After they danced to Justin Timberlake's "Rock Your Body" and shared a vape pen during the night, romance rumors began to start quicker than a winner could say thank you in an acceptance speech.
One month after the not-so-private party, all signs point to a pair that is more than just friends. It also leads fans with plenty of questions regarding this duo including where does John Mayer fit into the picture. We decided to take a look inside this famous pairing's relationship in the public eye. Let the "fireworks" or sparks fly!
Dec. 28, 2015: John and Katy helped bid farewell to the year at The Nice Guy restaurant and lounge in West Hollywood. They entered the same car after exiting the venue and a source told E! News that the two were hanging out with a group of friends.
Dec. 31, 2015: When the clock struck midnight and the ball dropped to usher in a new year, the couple was in different states. Katy was in Las Vegas performing while John was closer to home delivering a set at The Forum.
Jan. 10, 2016: Plot twist! Katy and Orlando attended the Weinstein/Netflix after-party where they were seen talking in a VIP section. "They didn't enter the party at the same time. Orlando was over at Harvey's table and as soon as Katy walked in she went straight over," an insider shared with E! News. "They were pretty much together the entire party. No PDA. Lots of smiles and laughing."
Steve Granitz/WireImage, AP
Jan. 12, 2016: Reunited and it feels so good?! During the Stella McCartney Autumn 2016 Presentation in Los Angeles, the Pirates of the Caribbean actor seemed to arrive just after the "Hot & Cold" singer and made his way over to her. According to an insider, they hugged and Orlando definitely gave off a flirtatious vibe. Katy, however, didn't seem fazed. They spent a few minutes talking, but ultimately parted ways to greet different people.
Around the same time, a second source told us that Katy and John "are still very much together." As for all the meetings with Orlando, a source speculated that it was all just friendly.
Jan. 21, 2016: Almost two weeks after the Golden Globes, Orlando and Katy got together for another fun night out. Tonight's destination was backstage at the one-man play The Absolute Brightness of Leonard Pelkey. In a selfie snapped by actor James Lecesne, Orlando and Katy smiled for the cameras. As for John, he was spotted at Craig's Restaurant in West Hollywood.
Feb. 4, 2016: While celebrating his manager's birthday, Orlando decided to bring Katy along for the celebration. The pair hung out at Sunset Tower with famous guests including Jennifer Aniston and Jason Bateman.
Feb. 6, 2016: This past weekend, Orlando and Katy drove to Malibu to attend Robert Downey Jr.'s son's birthday party. In an added twist, the Lord of the Rings star brought his son Flynn to the afternoon gathering. "[Katy] looked very comfortable with Flynn and they were both smiling and happy," our eyewitness told E! News. "Katy didn't know as many people as Orlando so she was a little more quiet and shy."
With Grammy weekend quickly approaching, the odds are in our favor that both Katy and John will be in town. Will they be stepping out together or will Orlando be front and center? Stay tuned! 
—Reporting by Sara Kitnick