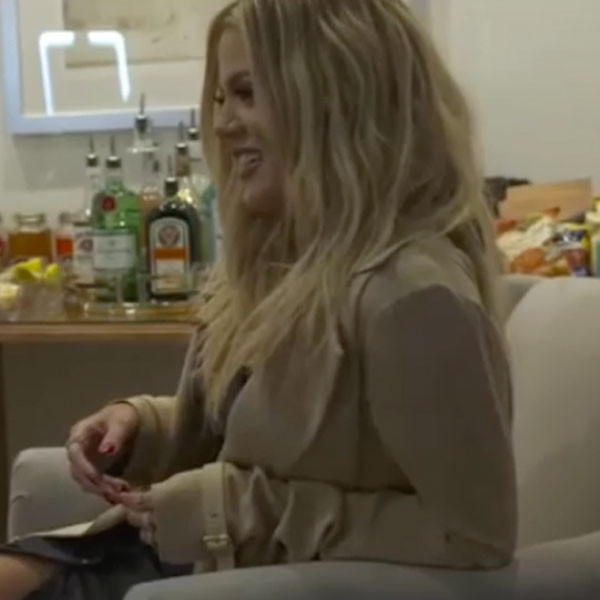 Khloe Kardashian may be dealing with a breakup, but you'd never know it by looking at her.
E! News recently confirmed that the celeb and Houston Rockets player James Harden have called it quits after dating for roughly six months, and although going through a split can be difficult for anyone, Khloe seems to be in great spirits.
The blond beauty was all smiles during her various livestreams on her app today, including one special sit-down with fans who won a chance to meet Khloe backstage at Kocktails With Khloe. The energetic trio were chatting about all kinds of topics, including Lamar Odom, who seems to be constantly and steadily improving on his road to recovery.
"He's good, he's so good. It's just insane what the human body can do," Khloe told the two fans of Odom, who suffered an overdose late last year.
"We went on a hike the other day, Kim [Kardashian], myself and Lam. It's just crazy how quick things change and you never really know and that's such a blessing. And I believe in God and praying and I'm so grateful."
The E! star adds that although social media can be a bit hellish at times, it was very moving to see so many people offer their support during such a difficult time in her life. "That's the blessing of this world, too. Yeah, the Internet can be such a curse and so demonic, but then, just like the power of prayer, you have all these people you don't even know rooting for you," she said.
"When Lamar isn't in physical therapy he is with Khloe. They continue to be closer than ever. No one really knows what will happen with them in the future," a source recently told E! News, adding that Lamar "has a very positive attitude, Khloe is so proud of him. She encourages and motivates him everyday."
Khloe also has a lot to celebrate. During an earlier livestream, while revealing that she's going to make a quick turnaround trip to New York City for Kanye West's Yeezy Season 3 fashion show at Madison Square Garden tomorrow, the host also announced that FYI picked up another season of Kocktails With Khloe!
Hey, now! Who has time to dwell on a breakup when you're so blessed?
New episodes of Keeping Up With the Kardashians return Sunday Feb. 14 at 9 p.m. only on E!