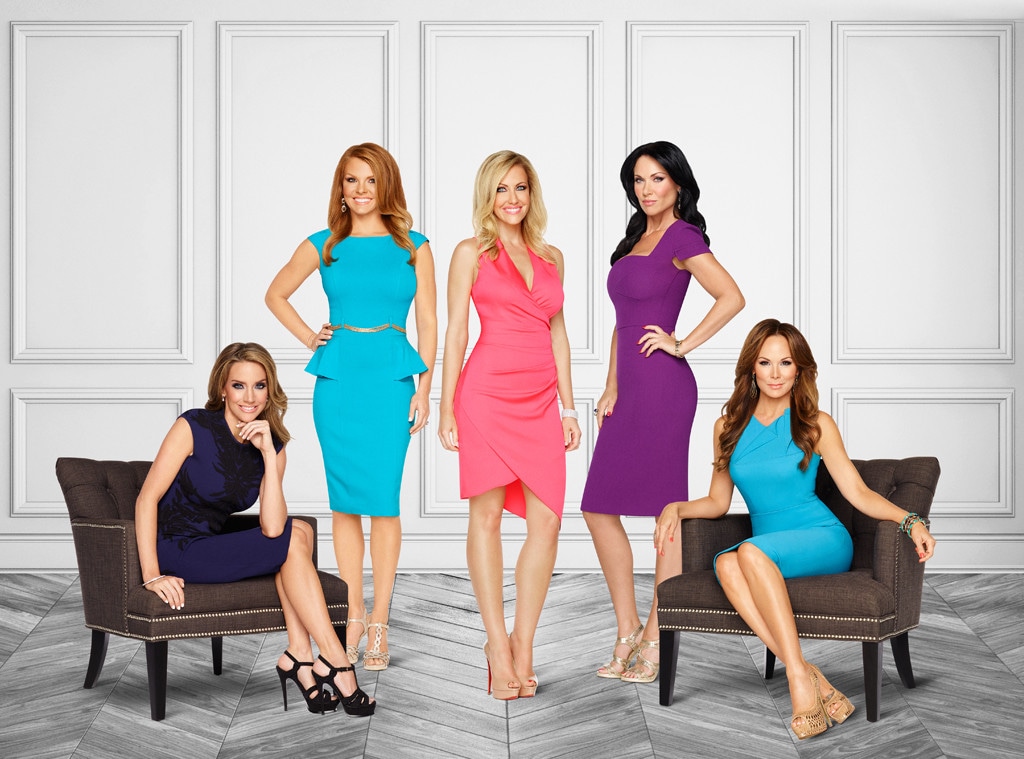 Bravo
The Real Housewives of Dallas is here to prove that even the drama is bigger in Texas. Giddy up, RHOD is coming your way on Monday, April 11 at 10 p.m. on Bravo.
Cary Deuber, Tiffany Hendra, Stephanie Hollman, LeeAnne Locken, Brandi Redmond and their friend Marie Reyes take Real Housewives to the Lone Star State with big egos, big hats and even bigger attitude.
Like all Real Housewives shows, there's a pecking order in place with pedigree and status involved. You know what happens when old-money meets new-money meets no-money. Get a sneak peek at the drama in the exclusive preview below. Don't let the sweet Southern accents fool you, these ladies don't mince words.
Here's what you need to know about the ladies:
Cary Deuber is an East Coast girl, hailing from Connecticut before spending her childhood in Ohio and making her way to Texas. A certified registered nurse's first assistant, Cary has gone on medical mission trips in third world countries. She lives and works in Dallas with her plastic surgeon husband Dr. Mark Deuber and maintains her own aesthetic injectable practice. She's also a mom to a baby daughter and step-mom to two kids.
Tiffany Hendra, a veteran actress, host and model, moved back to Texas to be closer to her family. Now she's reconnecting with best friend LeeAnne Locken and working with philanthropic organizations including Angels of East Africa, a group dedicated to the rescue of orphaned children in need. She's been married to Australian rocker Aaron for 12 years and Bravo notes she has a "troubling past" from her time in the limelight. Classic Real Housewives.
LeeAnne Locken, a former Miss USA Pageant competitor, has had several parts in TV and movies and now leads efforts for several charitable organizations in Dallas.
Stephanie Hollman hails from Oklahoma. Described as "the girl next door," Stephanie is the mom to two boys. According to Bravo, for Stephanie to make her own money, her husband, Travis, writes up a list of chores for her to do while he's away on business.
Brandi Redmond, a former Dallas Cowboys Cheerleader, is a dedicated Texan. She married her high-school sweetheart Bryan and is the full-time mom to two young girls. Her husband is away on business, so Brandi focuses a lot on charity work and spends time with BFF Stephanie.
Marie Reyes, a friend to the Housewives, is also involved in the Dallas charity scene. She's an RN who owns and operates SkinSpaMED.
Be sure to come back to E! News for more from The Real Housewives of Dallas. The show premieres Monday, April 11 at 10 p.m. on Bravo.
(E! and Bravo are both part of the NBCUniversal family.)
Watch:
Teresa Giudice Talks Family's Visits to Prison