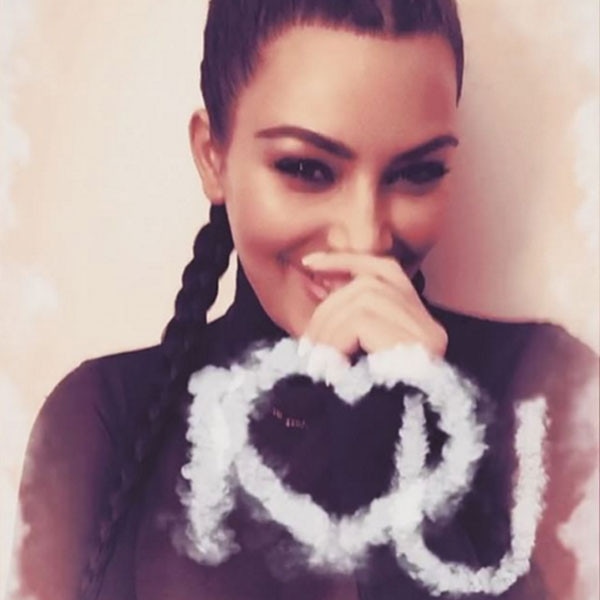 Instagram
The joke's on all of us—Kim Kardashian has had a Snapchat this whole time!
Don't beat yourself up, though, nobody knew about her secret social media account until she revealed the news earlier today on longtime friend Jonathan Cheban's Snapchat story. While in New York City with Cheban, her pal called her out for not making it clear on who put her on the whole Snapchat game long time ago, which led to Kim sharing a very interesting story.
"I'll talk fast, OK, I didn't know Snapchat was only 15 seconds," Kim began. "So I was bored in London. I couldn't sleep. And then Jonathan had me open up a secret Snap. Do you wanna know why?"
Obvs, Kim, do tell..."Jonathan told me that if I followed some of our friends and saw what they really do in their real life, wasted and acting so crazy, I would never be friends with them again."
Ooooh, sneaky. "So Jonathan walked me through how to open up a Snapchat in London. Kanye [West] was snoring in the bed right next to me, not really snoring, passed out. I couldn't sleep so Jonathan opened up a Snapchat with me over the phone and I started following some friends and saw what they do in their..."
Damn the timer on those Snapchat videos, but we're going to guess the next words were "everyday lives."
Ultimately, Kim explains that she's been on the Snap, but didn't tell anybody because her sole purpose of being on there was a top secret mission. "So, Jonathan is the reason I have a secret Snap and I only lurk and stalk people." LOL! Fair.
However, perhaps the brunette beauty will decide to openly Snapchat with fans, soon? She recently sparked some speculation that she'd be joining in on all of the fun when she posted a video of herself playing with the "I [heart] U" selfie filter.
And as we already know, those selfie filters will get ya.
Keeping Up With the Kardashians returns this September, only on E!