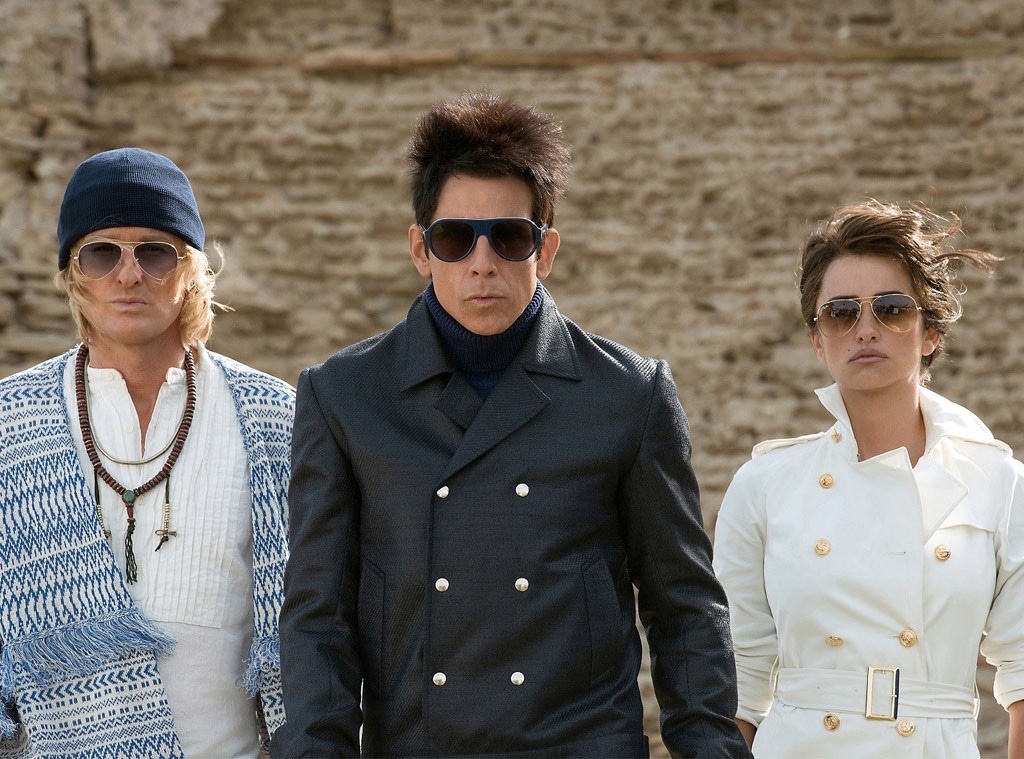 Courtesy Paramount
Get ready for a long list of really, really ridiculously good-looking people. 
That's because the long-awaited Zoolander 2 is finally here. It's been a whopping 15 years since Derek and his gaggle of male models graced the stage, so the sequel's stakes are as high as professionally-teased hair. To arm themselves, the moviemakers rounded up just about every single famous person they could find to join them onscreen, even if for but the briefest flash. Not since the Entourage movie have this many A-listers appeared together. At least we're assuming; it's not like we're going to do math here. 
Of course the cameo on everyone's mind is that of the one, the only Justin Bieber. We all remember the glee we felt when the movie's first trailer came out and we got to collectively marvel at the Biebs dying of seemingly selfie-related injuries. But it's important to note that however glorious it is to watch his last-breath Blue Steel, he's not the only big name in the movie—or even the only big name who dies. Gasp!
Ahead, see our ranking of our favorite celebrity cameos. We should warn you there are some spoilers, but we've left out all the really important parts. 
22. Katie Couric, Natalie Morales, Matt Lauer. When you need a newscaster to get the audience up to speed on everything that's happened since the original movie installment 15 years ago, you call the Today show team. They did a great job, but reading the news is reading the news.
21. Billy Zane. Were we the only ones who weren't sure whether he was going to reprise his appearance? It wasn't exactly a surprise, but he gets points for making a great recurring joke about Netflix.
20. Skrillex. Surprise! He's a DJ. Oh, wait...
19. Penelope Cruz. Okay, so her role in Zoolander 2 is neither a surprise nor a cameo. But we still had to give her a shoutout for rising to the wacky occasion and also for filming a scene in which Derek rides on her back through the ocean, dolphin-style, using nothing but her breasts as support. Girl deserves a raise for that. Which brings us to...
18. Kristen Wiig. Again, her inclusion is a bit of a cheat, but no article about this movie would be complete without mention of her ahhh-mahzing fake face-slash-accent. Her character made literally no sense and that's why we loved it.
17. Usher, Lenny Kravitz, Madonna, Demi Lovato. These guys appear in digital form only, as evidence of their last selfies taken before a vengeful murder. It's brief, but the idea of celebrities lending their names and faces to a fake serial killer is worth a chuckle.
16. Katy Perry. Oh, look, there she is standing on top of a roof in Rome pondering the meaning of life! 
15. Susan Boyle. LOL, remember her? Well the paparazzi in Italy sure does, because she pops up to steal the photog limelight from the now-disgraced Derek and Hansel. (And spoiler alert: She flips the bird).
14. The Fat Jewish. We're not crazy about him getting movie cameos (even if it is dialogue-less), but we had to marvel at the fact that he plays a tattoo artist in the midst of a bunch of super obnoxious hipsters and didn't have to spend a second in hair and makeup.
13. Alexander Wang, Vera Wang, Tommy Hilfiger, Marc Jacobs, Valentino. It would be far too spoiler-y to disclose the full nature of this rock solid pack of designers' role in Zoolander 2, but we will give you a hint: Brush up on your conspiracy theories. In the meantime, know that it's never un-fun to stare at Valentino's tan.
12. Ariana Grande. She speaks no words, but that's because she has a ball gag in her mouth. End of story.
11. Susan Sarandon. One word: Orgy.
10. Willie Nelson. Two words: Hippo orgy. (For real).
9. Kiefer Sutherland. Three words: Orgy gone wrong.
8. Justin Bieber. Something about the idea of the Biebs uttering "Oh, fudge" when faced with a group of assassins on motorcycle is just hilarious. We don't know why. Also, Beliebers should be prepared to cover your eyes and ears for at least the first three minutes of the film, because things get graphic. 
6. Naomi Campbell. Picture this: Naomi Campbell pours milk on herself as Derek Zoolander, dressed as a centaur, stands watch. 
5. Neil deGrasse Tyson. When you're in the middle of an existential crisis, there's no one better to show up and explain things than the king of science. Thanks, Neil.
4. Benedict Cumberbatch. Nobody rises to the occasion of not being able to have eyebrows better.
3. Fred Armison. No verbal description of this cameo will even come close to doing it justice, but we will try to suffice until visuals are available: He plays an 11-year-old social media whiz, who also happens to be partly computer-generated, which allows for Fred him to have the body of an 11-year-old and the face of, well, Fred Armisen. 
2. Sting. We first meet him in a confessional chamber, and we've now realized there is no one we want to repent our sins to more. Roxannnneeee!
1. Anna Wintour. Girl, how have you not become an actress before? This woman stole the show, everybody. She is so fierce, and just the mental image of having to ask Anna Wintour to be (and talk) in your movie is badass enough for us. Get this gal an agent!