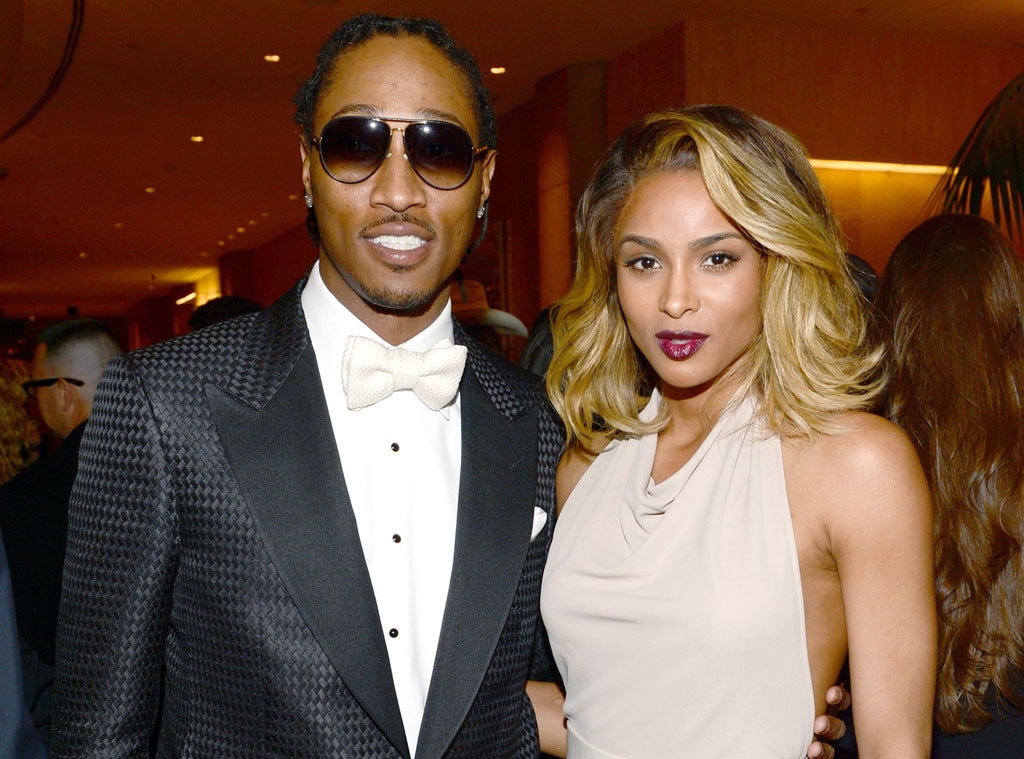 Larry Busacca/Getty Images
Ciara and Future haven't been the friendliest of exes, and now it's only getting more tense.
Ciara is suing her ex and father of her child for defamation and slander, according to legal documents obtained by E! News, and is seeking $15 million. The "Love Sex Magic" singer cites several instances in which Future criticized her parenting abilities in both interviews and Twitter rants.
When a picture of Ciara's boyfriend Russell Wilson captured him pushing Ciara and Future's son, Future Zahir Wilburn, in his stroller, the rapper slammed the couple in a radio interview with The Breakfast Club.
"She probably set him [Russell] up. You letting them catch that photo," he said. "Leave my son out of all the publicity stunts."
The court documents also mention Future's Twitter rants in which he claimed his ex was preventing him from seeing their child. "This bitch got control problems…" he shared online. "I gotta go through lawyers to see babyfuture…the f--kery for 15k a month. I jus want babyfuture that's all." 
He continued, "I been silent for a year & a half..I ran outta patience. Get ready for this classic."
Ciara claims she makes sure her ex sees their son, adding that they've had 19 visits since December 2014, some of which have lasted for a few days. She's requesting the court order him to delete his tweets and prevent him from saying anything about their private family lives in the public sphere.
A rep for Ciara had no comment.
"She has been in touch with her lawyer since this all started with Future. Ciara has been gathering enough evidence through all these incidents to build a case against him," a source tells E! News. "She didn't want this to get messy because of her son, but it's out of her hands now. Ciara is not going to let Future blast her character all over social media."
The insider adds that Ciara has severed ties with anyone in Future's life. "Ciara has separated herself with anyone involved with Future. Everything that has been going on has upset her."
Watch:
Ciara Explains Why Being a Mom Is a Game-Changer
She has had her boyfriend by her side throughout the legal process. "Russell has been there for Ciara during this, but she doesn't want him to get involved but is very thankful she has him," the source adds. "Baby Future is doing well and is still too young to understand what's going on. Baby Future is a very happy baby."
Regarding his Twitter rant, a source close to Ciara told E! News at the the time that the "I Bet" songstress never prevented Future from seeing their son, and he also has not nor does not pay $15,000 in child support. The insider added that Future "uses the situation to promote his music by staying in the press using her name."
"Future has told her he hopes she fails in everything she does and that's just being evil," the source shared. "He is unable to move on and co-parent in a healthy way." 
As for Ciara's personal life currently, she just wants to move forward with Wilson. "She respects Future as a dad but that's it and really just wants to leave that chapter behind her," another source shared with E! News exclusively. "She is in an amazing place in her life. She couldn't be happier with Russell."
Our insider continued, "He makes her feel like a queen and treats her with only respect. He loves her son and that means everything to her in more ways than she can explain."