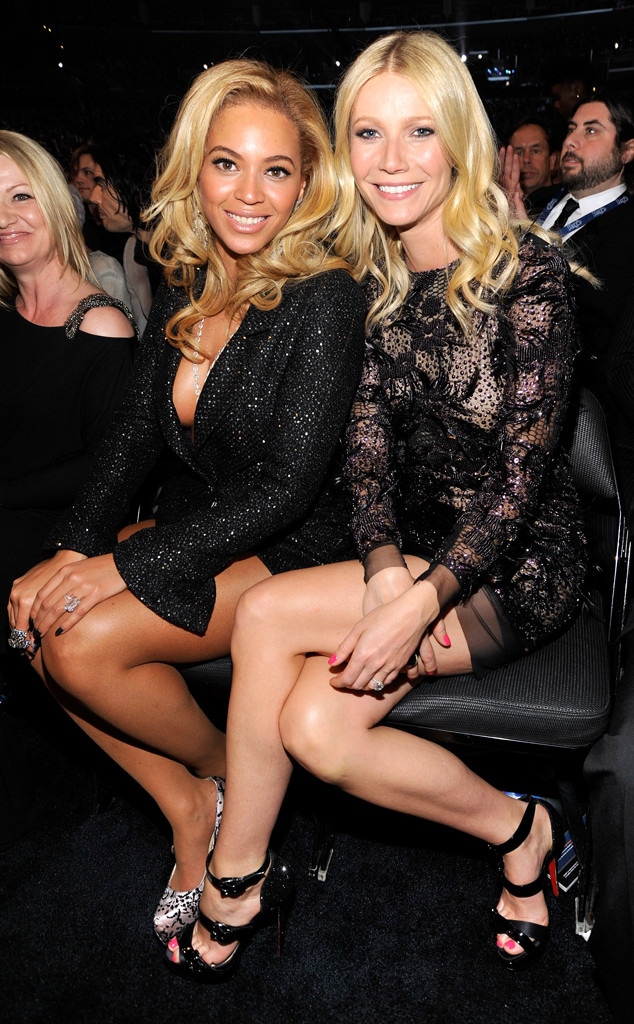 Kevin Mazur/WireImage
Super Bowl 50 may have been a little snoozy—defense wins championships but doesn't make for scintillating TV—but we'll always have Beyoncé and Gwyneth Paltrow.
The gal-pals reunited this past weekend in the San Francisco Bay Area and reignited our consuming interest in their friendship. Which, better yet, now transcends generations! Both ladies had their daughters with them, and though Apple Martin is 11 1/2 to Blue Ivy's 4, those two also made for a picture-perfect, "grownup to aspiring-grownup" duo as well.
But it's hardly just motherhood that brought Bey and Gwyneth together (though that's yet another thing to bond over, of course). If their BFFship still seems random to you, then you haven't been paying attention. Here's a look at how it all began and why it works...
The Meet Cute
While there was speculation that they met through their husbands, the musically minded Jay Z and Chris Martin, Gwyneth ultimately explained that they met the other couple at a benefit in New York some years back. "We just kind of hooked up and became really close," she told Ellen DeGeneres in 2010. "And they're incredible people. They're very, very kind, generous, good good people."
"I normally don't do that, but in that particular case [it worked]," Paltrow also told Howard Stern in January 2015 about how unlikely it was to just vibe with a fellow famous couple at the time.
Sharing Milestones of All Shapes and Sizes
In the mid-'00s Gwyneth and Chris were frequent fixtures at their pals' concerts, Beyoncé and Gwyneth famously palled around at the 2007 Oscars, then Paltrow and Martin were front and center when Bey and Jay tied the knot in 2008.
And Martin and Paltrow splitting up in 2014 didn't outwardly seem to affect the overall dynamic one bit—not least because Chris and Gwyneth remain incredibly close, complimentary of each other and very much in the running for most conscientiously uncoupled pair ever. No one needed to pick sides, Chris and Gwyneth didn't need to lay claim to Bey and Jay as they split up their assets, etc. They may not do as much globetrotting double-dating as they once did, but this is one mature foursome.
Bey collaborating on a song for Chris' latest album and joining him at the Super Bowl? No problem! Gwyneth was on the album too after all!
The Bond
"She is incredible; she's a great friend on every level," Bey told E! News about Gwyneth in 2013 at the red carpet premiere of her HBO documentary Life Is But a Dream, noting that they're taking similar approaches when it comes to raising kids. "I think for us, protecting our daughters is so important and…keeping things on our own terms, so I will still be protective and make sure [Blue Ivy] has a childhood and a great time."
"They're the greatest people," Gwyneth, in turn, told Howard Stern last year. "They are funny and sweet and self-aware and really intelligent."
She expressed a like-minded sentiment last year on Watch What Happens Live! as well when asked, literally, what was "the greatest perk of being Jay Z and Beyoncé's friend."
Dave M. Benett/Getty Images
"The greatest perk of being their friend, is that I have a relationship with people who are also—who have similar...I mean, obviously I'm not as famous or successful as they are," the Oscar winner added humbly. "But I do have a life in the public eye and I have people to sort of walk through life with in that capacity, and they're very kind and loving people. And it also means I get to be around their daughter."
(Side note: Being able to stand your pals' kids is a prerequisite for an enduring friendship, FYI.)
"She is a powerhouse," Gwyneth described Blue Ivy. "She is like the boss of everything and she can do all the choreography to Sia's 'Chandelier' video...and she's just super smart and I love her so much."
A Mutual Admiration Society
Beyoncé's no slouch either in Paltrow's mind. "It's kind of nauseating," Gwyneth confirmed playfully on Ellen about her friend's talent. "She's so perfect it's kind of hard to take."
And in 2011, Bey told Harper's Bazaar of Gwyneth: "She pushes her boundaries all the time. You go to her house and she makes you feel like you never want to go home. She is what I strive to be one day."
"Uncle Jay"
Gwyneth's not the only one smitten—her kids are welcomed into the Carter fold as well! "My son would like to be more like Uncle Jay," Paltrow told us in April 2013 when asked about her kids' musical proclivities, considering their platinum-selling roots. "He asked me the other day how he could look more like Uncle Jay. I said I would have to think about it." (Did Moses get a trip to Barneys for Christmas that year...?)
And though Apple was more indie-rocker by then, according to Mom, Gwyneth told Ellen daughter in 2010: "She says she either wants to 'do concerts like Beyoncé' or be a baker."
Larry Busacca/Getty Images for NARAS
Going Public
Sure, phone calls, texts and intimate evenings in are all well and good, but it would be weird if they didn't go fabulously public every once in a while! Gwyneth was fittingly tasked with introducing Beyoncé's performance at the Grammys last year.
"To sing 'Take My Hand Precious Lord,' that was first sung to her by her own mother, here is my beautiful friend, Beyoncé," the actress humble-bragged (and we don't fault her one bit).