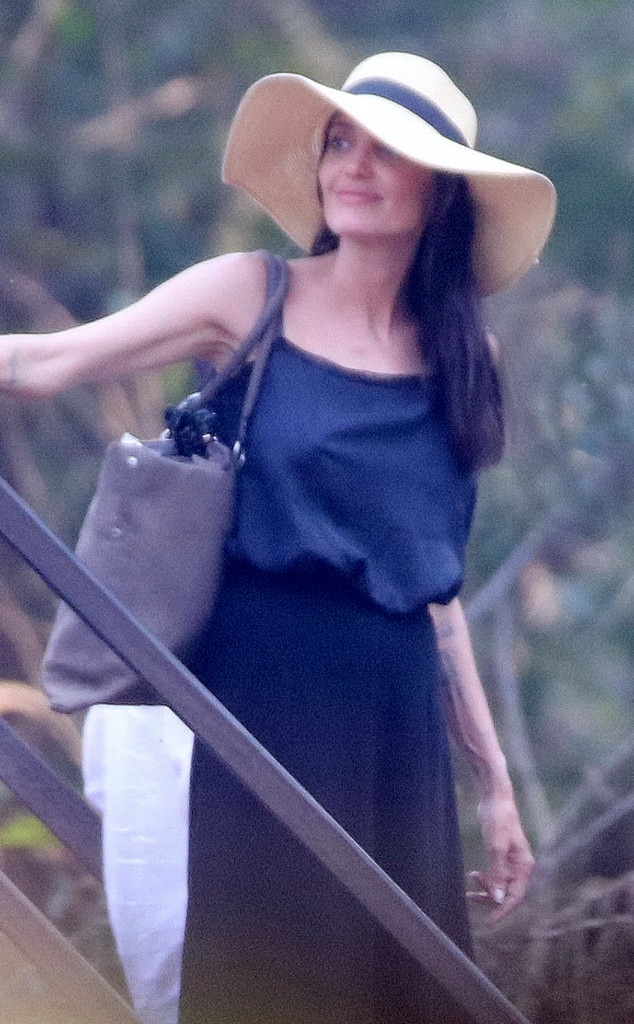 Coleman-Rayner
Angelina Jolie has added some fresh, new ink to her collection of tattoos!
The 40-year-old already has quite a few tattoos, but she only continues to add more, debuting three massive pieces on her back while filming in Cambodia this week.
The new ink joins her other famous tattoos, including a tiger on the bottom of her back, Cambodian writings on her left shoulder and the phrase "Know Your Rights" right below her neck. With the new additions, her back is now almost entirely covered in ink.
The new tattoos appeared to be in the yantra (or sak yant) tattoo style, a traditional Buddhist form of body art that originated in Southeast Asia. A source confirmed to People magazine they are Buddhist blessings for peace, love and a prosperous life. However, it is unclear if they were technically yantra tattoos or simply in that style.
One appears to be a temple while the other looks like a series of symbols in a box. The third, on her right shoulder, matches the one on her left, and all of them appear to coincide with her most recent tattoo on her forearm, which is also composed of Buddhist scripture.
The ink is relatively new, considering Jolie was most recently photographed in November without them.
Kevin Mazur/Getty Images for WSJ. Magazine 2015 Innovator Awards
Meanwhile, the actress-turned-director is currently working on her upcoming film for Netflix, First They Killed My Father. The film is an adaption of the 2000 non-fiction book written by Loung Ung, a Cambodian author and survivor of the Pol Pot regime, and her personal account of her experiences during the Khmer Rouge years.
The movie has turned into a family affair, as Jolie has been getting help from her eldest sons. Maddox—who was born in Cambodia—is helping with research, while Pax is taking still photos for production.