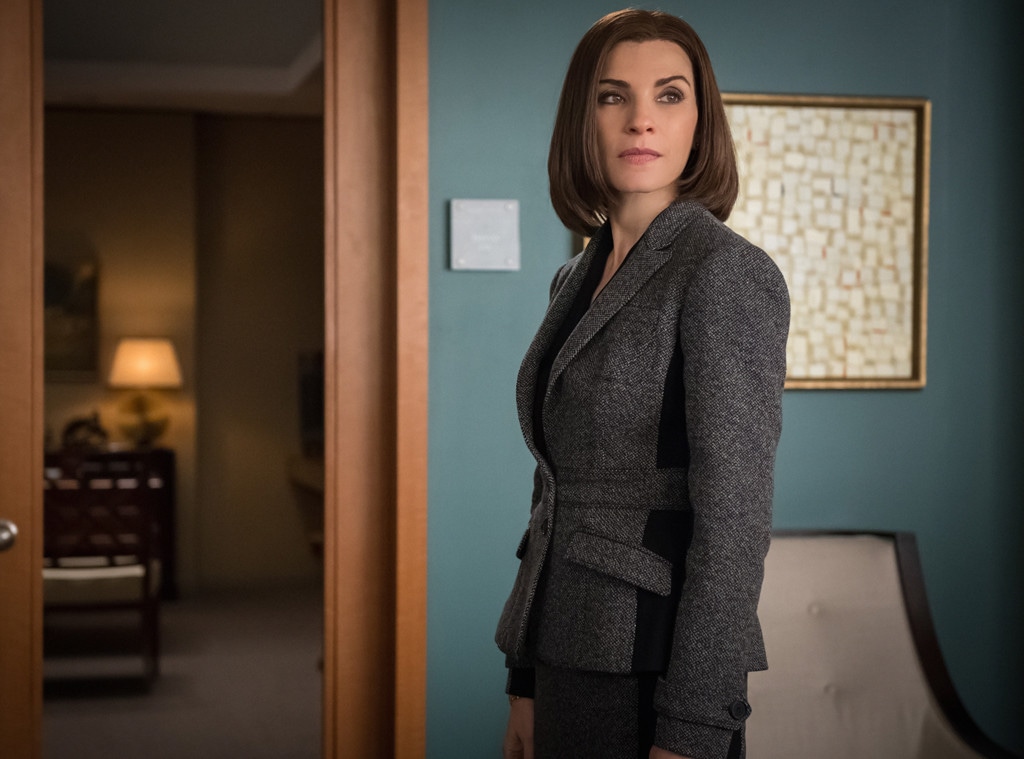 CBS
The Good Wife is ending and that's fine. Actually, it's more than fine, it's good.
I have been a Good fan since the start. Actually, since before the show premiered when I saw the series' poster with Julianna Margulies in red and headlines all around her. That image sold me. Little did I know that the show would go on to become one of the most fascinating and expertly scripted and acted shows to ever grace television. When Alicia Florrick (Julianna Margulies) walked down that hallway in season two after she found out Kalinda Sharma (Archie Panjabi) had slept with Peter Florrick (Chris Noth) before the two became BFFs, I was screaming. I was flailing. I was gasping. This reaction continued for years. However, "nothing gold can stay."
Over time, The Good Wife has gotten a bit off track. There were missteps involving CGI (you know, that whole Kalinda thing), dozens of dropped recurring characters (Amanda Peet, where'd ya go?) and more than one questionable storyline (for starters, Alicia's state's attorney run). It's time to end The Good Wife.
Something should be said for Robert and Michelle King having an endpoint in mind and CBS respecting it…albeit if they actually tried to keep it going. CBS's Glenn Geller told press the network was looking at an eighth season without the Kings. That was worrisome.
"It's never easy to say goodbye to one of the crown jewels of your network and studio, much less to a show that is among the best on television," Glenn Geller, president of CBS Entertainment and David Stapf, president of CBS Television Studios, said in a joint statement after the Super Bowl commercial announcing the end of the series aired. "But it also feels very right to end with the seven-year story its creators envisioned, and to celebrate the show's final run while at the top of its creative game. It has been CBS's sincere privilege to broadcast and produce The Good Wife for seven extraordinary seasons. We thank and applaud the outstanding cast, led by the impeccable Julianna Margulies, and the consummate writing and producing team, headed by the brilliant Robert and Michelle King, who brought to life a smart, sophisticated series that has delivered audiences so many memorable characters and unforgettable moments. It is a series that will only grow in prestige as its episodes are watched again or discovered by new viewers for many years to come."
Now, the Kings get to end Alicia Florrick's journey the way they want, which is how it should be. Sure, season eight without them could work. It could be better than season seven (which is, in case you haven't been reading my recaps, not great), but maybe it would've been a disaster. Who knows? I'm glad we don't have to experience it.
Letting The Good Wife end instead of squeezing more out of it is the best thing we can hope for, especially with the uneven season being delivered currently.
Margulies has turned in a career-defining performance as Alicia Florrick. Even she didn't want to go on without the Kings. She recently told a group of a casting directors this: "I surprised Robert and Michelle tonight," Magulies said, according to Vulture. "They didn't know I was going to be here. They think I'm here for them, but I'm unemployed come April, and I think you haven't seen me in a while, at least not in person, so I thought I should show up."
CBS was smart to trust Margulies and the Kings about the end, as well as the viewers, who have returned episode after episode to see the show tell the story of Alicia Florrick.
The Good Wife will go down in history as one of TV's best shows—ever. Thankfully without that big of a footnote some shows get. "Well, it was great except when so-and-so left and then a new show runner came."
The Good Wife is ending and that's fine. It's more than fine, it's good.
The series finale is scheduled for Sunday, May 8 at 9 p.m. with the final nine episodes resuming Sunday, Feb. 14 on CBS.