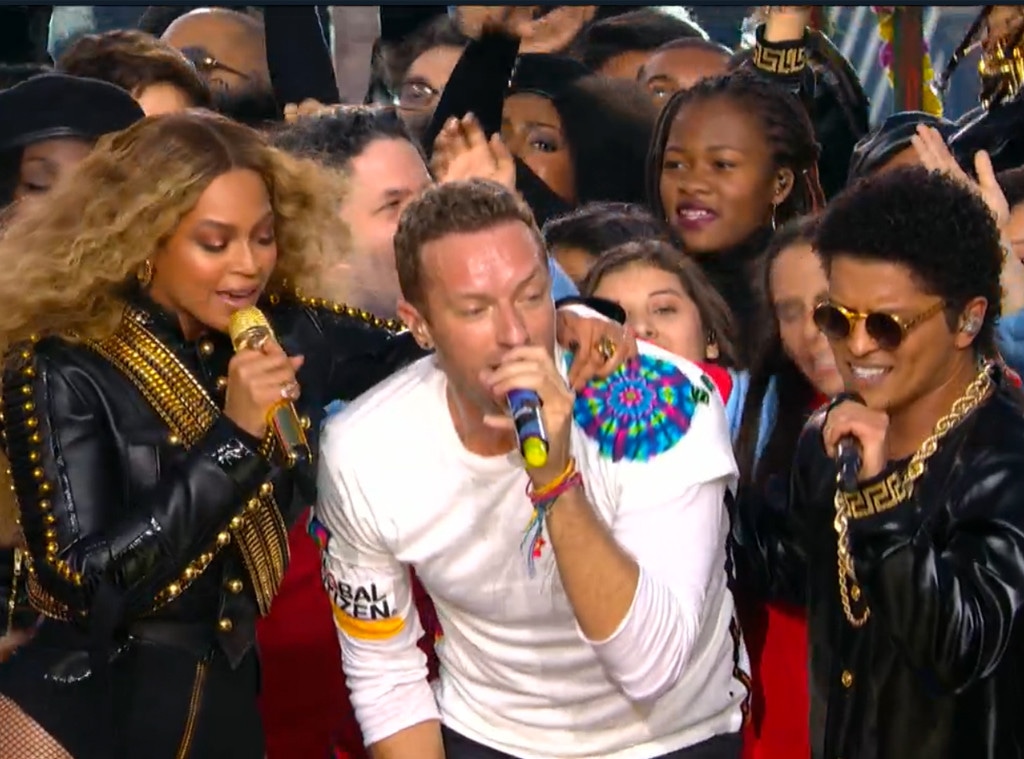 CBS
It truly was a triple threat.ong>,
Beyoncé
and
Bruno Mars
performed during the
2016 Super Bowl
 Halftime Show and absolutely killed it the only way a combination like that could crush one of the most watched performances of the year. The British band kicked off the festivities with a snippet of "Yellow" and then transitioned into "Viva la Vida," where was accompanied by a group of kids playing an orchestra. Lead singer 
Chris Martin
then sang "Paradise" before launching "Adventure of a Lifetime."
Mars and his group then took the stage in matching black leather outfits and performed an epic "Uptown Funk." Beyond epic. The dance moves, spinning by Mark Ronson and Bruno alone could've been the whole show, but of course he wasn't. Beyonce took over after Mars wrapped up "Uptown Funk," dancing her heart out on the field with a group while performing "Formation," the surprise video she released over the weekend. Queen Bey dressed in a black custom leather jacket with gold metal military details designed by Dean and Dan Caten. It was meant to be an homage to Michael Jackson.
She and Bruno then combined with Martin for an awesome closeout of the show and "Uptown Funk."
If that weren't enough, Martin took to the piano to play "Fix You" while a montage of past Halftime Show performances played on the screen. Cue the tears and nostalgic emotions while belting out Coldplay's "Up & Up." They all ended it with a portion of the stadium audience turning up signs that read "believe in love."
Bruno headlined the Super Bowl XLVIII halftime show at MetLife Stadium in New Jersey back in 2014. His performance was later nominated for a primetime Emmy award for Outstanding Short-Format Live-Action Entertainment Program. Ahead of this year's Halftime Show, Martin revealed in a Super Bowl press conference that their performance was inspired by one of their favorite music festivals. 
Kevin Mazur/WireImage, George Rose/Getty Images
"One of our favorite places to play in the world is a place called Glastonbury festival, which is a big music festival that happens in England," he said. "It's full of color and pageantry, and it's an amazing sort of spiritual home of music in England."
"We wanted to bring that sort of vibe to the Super Bowl halftime show," he continued. "We can't compete with amazing dance routines and all of that. We have to try to do what comes naturally to us, which is to try and provide a bit of fun and a great atmosphere for people to come and be together and be communal and enjoy the general experience."