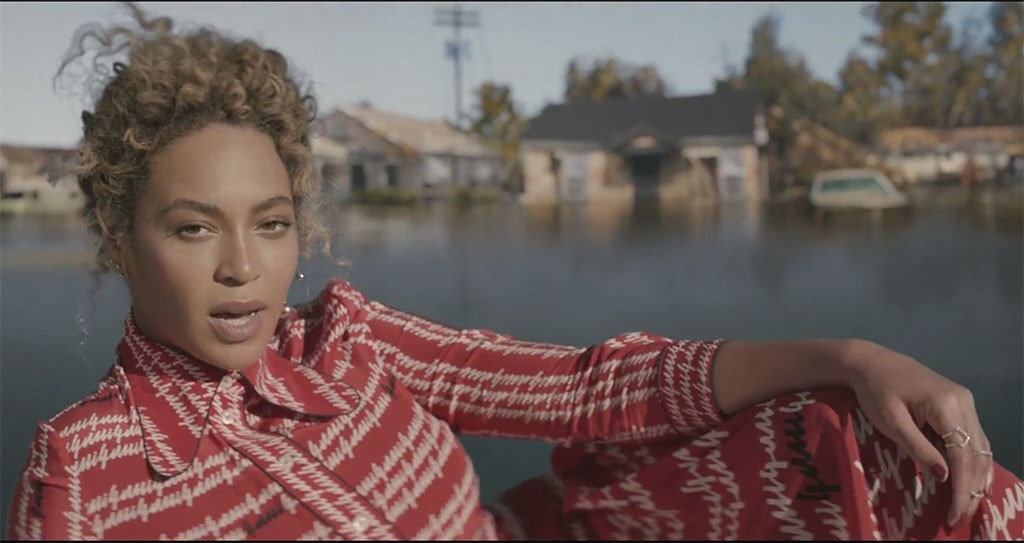 YouTube
Surprise! The Queen has returned...early!
On Saturday, Beyoncé released a new song and music video, "Formation," her first solo effort in more than a year.
The song contains explicit lyrics and is available on her husband Jay Z's Tidal service. The video is set in New Orleans and includes Mardi Gras costumes and flood scenes that bring to mind the aftermath of Hurricane Katrina, as well as a shot of Bey standing on top of a floating police squad car.
The singer sports a slew of sexy outfits, including one that's half-lingerie-half traditional dress, and showcases her signature dance moves. Her and Jay Z's daughter Blue Ivy, 4, also makes an appearance, as does Dr. Martin Luther King. Riot police are also shown.
The song contains lyrics such as,  "I go hard / Get what's mine / I'm a star / 'Cause I slay / I slay (hey) / I slay (hey) / I slay (hey) / all day," and "I got hot sauce in my bag, swag."
She also name-drops the Jackson Five, Bill Gates and Red Lobster.
The video was posted Saturday, a day before Beyoncé is set to take the stage as a performer at the Super Bowl 50 halftime show. She will be joined by Bruno Mars and Coldplay.