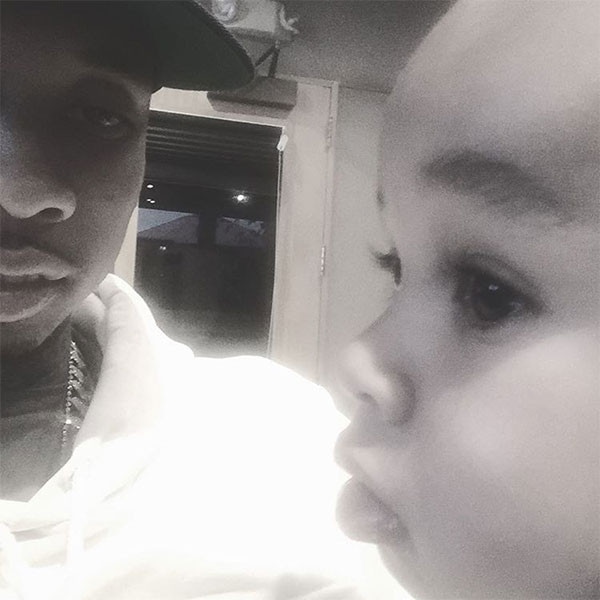 Instagram
Tyga recently upped the cute factor on his Instagram page with a rare photo of his and Blac Chyna's son King Cairo Stevenson, 3.
The 26-year-old rapper, also known as Kylie Jenner's beau, is seen looking at their boy, who stares straight ahead, in a black and white selfie posted Friday. He and Chyna, 27, have been co-parenting their son since they split in 2014. Tyga has long sought to obtain full custody of the boy and has become particularly concerned about him given his mother's recent arrest, E! News has learned. Reps for Tyga and Chyna had no immediate comment.
On Jan. 29, Chyna was detained on a plane in Texas for public intoxication and drug possession. Police say they found ecstasy pills in her purse. Chyna has pleaded not guilty. She is due back in court later this month.
"He has already started the process to request for full custody," a source told E! News about Tyga exclusively. "Tyga was wanting to file prior to all of this. The arrest was the icing on the cake though for him."
Another source told E! News, "Tyga is looking for legal advisement at this time."
"He is not into all this drama but when it has to do with his child's welfare, he has a huge problem," the source said. "He has spoken to Kylie about his feelings about this."
A third source, close to the rapper, told E! News Tyga and Chyna have each been fighting for more visitation time with King Cairo for the past year but that "it's been civil, for the most part" between the two. Meanwhile, the source said, Tyga is "not running to call his attorney."
Chyna often posts pics and videos of their son. Tyga last shared a photo of the boy on his Instagram page on New Year's Eve.
Chyna has recently been making headlines over her new romance with Kylie's brother, Rob Kardashian, 28. The reality star, who has remained largely reclusive for more than a year while battling personal issues, joined her on the beach as she posed for a sexy bikini photo shoot earlier this week.
The first source said Rob has spent time together with Chyna and her and Tyga's son.
"He gets along well with him," the source said.
Meanwhile, Tyga "doesn't have anything against Rob" and "is fine with them dating," the second source told E! News.