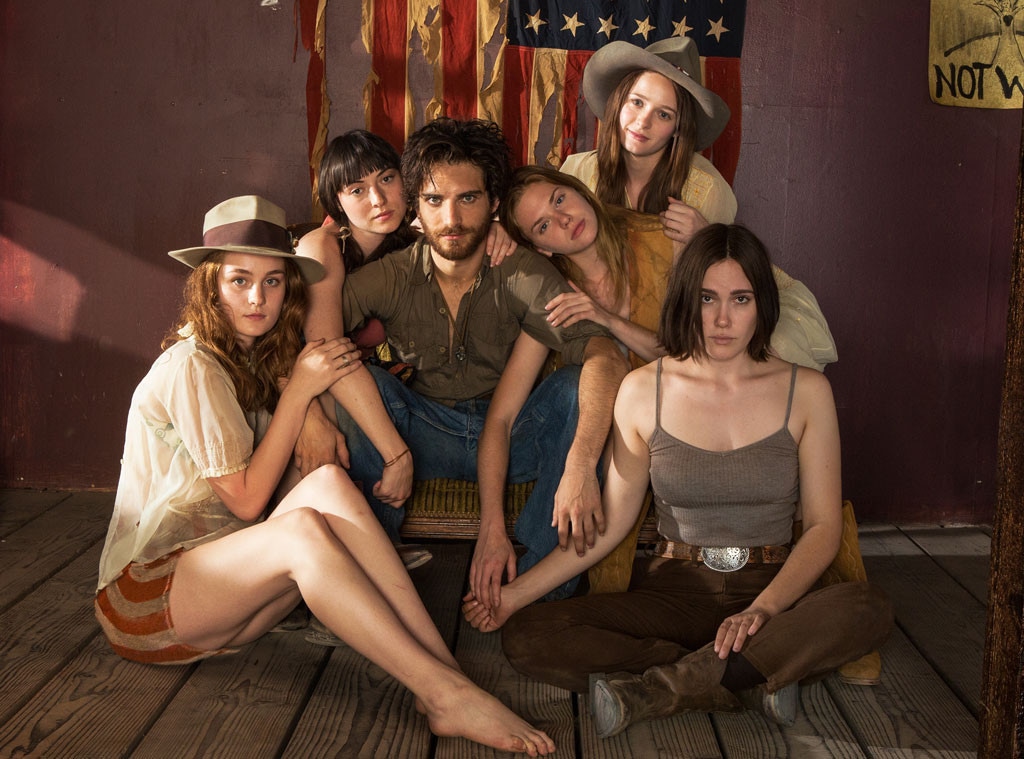 Lifetime
Guys, in case you haven't noticed, Lifetime movies have started getting good. And not "good" in the sense you'd usually associate with Lifetime movies—i.e. super-soapy, fun, and the perfect accompaniment for multiple bottles of wine on a girls' night—"good" in the not necessarily-a-guilty-pleasure sense of the word.
Manson's Lost Girls, about Charles Manson and the women of the Manson Family in the time leading up to the infamous two-night massacre that left seven people brutally murdered, had a little of both. It told the story we've all heard before, but through the eyes of former Family member Linda Kasabian, who ended up providing key testimony in the murder trial of Manson and the others.
At first, it was a gorgeous look at '60s fashion with a super sexy bearded dude hanging out shirtless a bunch, with orgies…until it started getting murder-y and terrifying. If you don't want to find yourself sexually attracted to a racist convicted murderer and coveting the outfits of his homicidal acolytes, then you should probably have skipped this one. It was kind of uncomfortable, really.
We're all familiar with the story and how it ended, but the movie left us right before Kasabian was to get on the stand and testify against everyone. We did learn that Kasabian and her daughter moved to the Pacific Northwest and live under assumed names, that Susan Atkins died from brain cancer in prison in 2009, and that Leslie Van Houten, Patricia Krenwinkel, Bobby Beausoleil, Tex Watson and Manson are all still in prison serving life sentences.
But what happened in between?
You can read some of Kasabian's testimony here, but the trial was incredibly noteworthy due to the disturbances Manson and his co-defendants kept making in court—repeatedly disrupting court proceedings and, at one point, Manson even attempting to attack the judge. Other Family members held vigil at the courthouse.
Kasabian gave her first interview following the trial nearly 40 years later, for a documentary where she revealed brutal details from the night of the Tate murders. She only lived on the commune for four weeks, but the Manson prosecutor revealed that she was instrumental in convicting everyone.
"She never asked for immunity from prosecution, but we gave it," Vincent Bugliosi told the Guardian ahead of the documentary's 2009 release. "She stood in the witness box for 17 or 18 days and never broke down, despite the incredible pressure she was under. I doubt we would have convicted Manson without her."
Watch:
What Attracted David Duchovny to New Series "Aquarius"