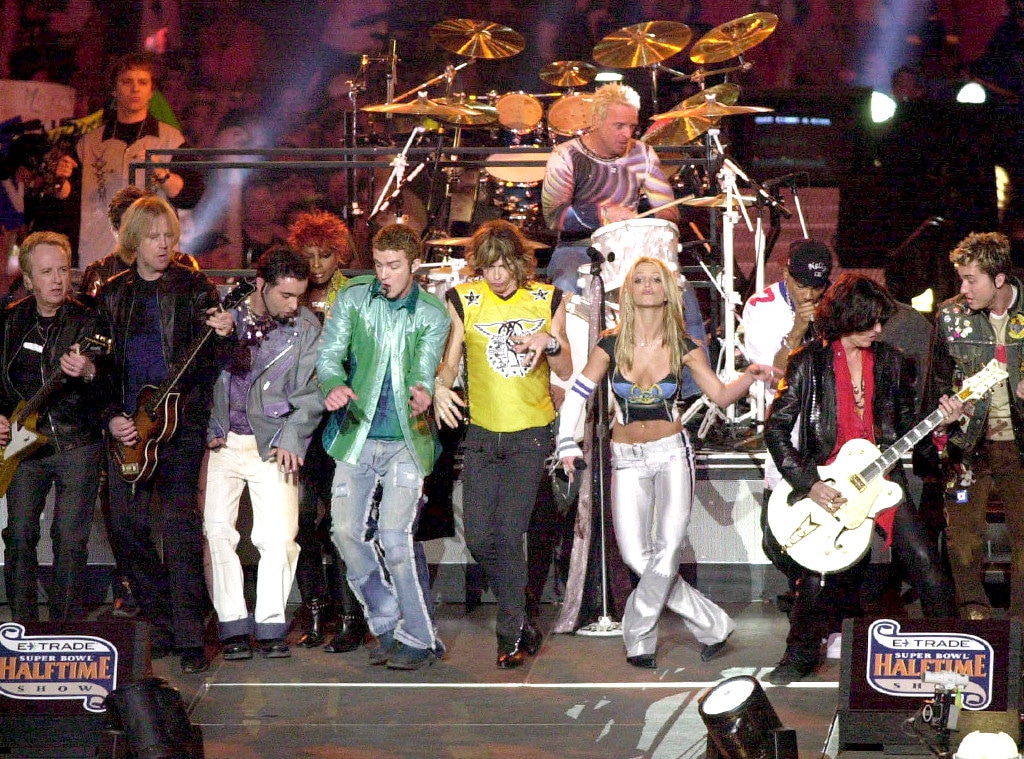 Doug Pensinger for Getty Images
If you were to ask us to point to the most iconic pop culture moment in the history of the world, we would say but three words in response:
"Britney. Arm. Sock."
If you're' going to come at us with that question, you best come correct. We're of course talking about the legendary and iconic 2001 Super Bowl Halftime Show.
In 2001, pop musicians were royalty. And ruling over the pop music world were Princess Britney Spears and Prince 'N SYNC. At that moment of time, you did not get more early-aughts than those two. You add Nelly, Mary J. Blige, and oh yeah, rock music legend Aerosmith and throw them all on the same stage, what do you get?
You get the point in time where human civilization peaks. Trust us, it has only been downhill since then
Let us tell you the tale of that fateful Jan. 21 day in 2001
Super Bowl XXXV's halftime show started out with 'N SYNC singing their hit single "Bye Bye Bye." Ever heard of it? And we swear to JC Chasez's tiny goatee that if you guys tell us you had no idea Justin Timberlake was in a boyband we will hunt you down and make you watch nine hours of TRL footage.
"Bye Bye Bye" ends with an explosion, and now it's time for Aerosmith to slow it down with the only love song that mattered that year.
"I don't wanna close my eyes, I don't wanna fall asleep..." C'mon, you know the words!
Wham! Cut to "It's Gonna Be Me" and JT has freakin' fire coming out of his hands. GLITTERY FIRE.
Then the turf war between Aerosmith and 'N SYNC starts, because Steven Tyler totally takes Justin's final "It's gonna be me" line and sings it himself. Shots fired!
But then 'N SYNC gets the last laugh because silly dude Chris Kirkpatrick does the ol' shoulder-tap-distraction move and Justin steals the final line from "Jaded." It's not just a performance, you guys. There's a storyline! 
Yep, Justin and Steven have a little dance off. That totally happened in our lifetime. That's how you settled arguments back then, kids.
But then all is well in Super Bowl halftime world because they all get together to sing "Walk This Way," and this is when the magic really starts. Are you ready? ARE YOU?!
BOOM. Britney Spears. No need to tell us her name, TV people. We know. And don't you dare take your eyes off of Britney's accessory. 
And here Britney just gives him a kiss. Using the arm that has the sock on it. Steven Tyler is so lucky. OK, so, this next GIF will be painful for most but...
For one verse, Britney and Justin, who were deeply in love at this point, got to duet. Oh, and Chris was there, too. Ugh, the pain is real, you guys.
Suddenly, a wild Mary J. Blige appears! And her presence improves the performance by a full 65 percent. Bless you, MJB.
Oh, did you want Nelly to pop out and do a verse from "E.I."? The answer is always: Hell, yes!
Finally, 'N SYNC, Mary J. Blige, Aerosmith, Nelly and Britney Spears onstage together. Just the way god intended it.
The NFL should have ended Super Bowls immediately after this performance, because what's the point anymore? It will never get any better than this.
¯\_(ツ)_/¯
Sorry, Beyonce and Coldplay. 
Watch:
Will Coldplay "F--k Up" Super Bowl 50 Performance?