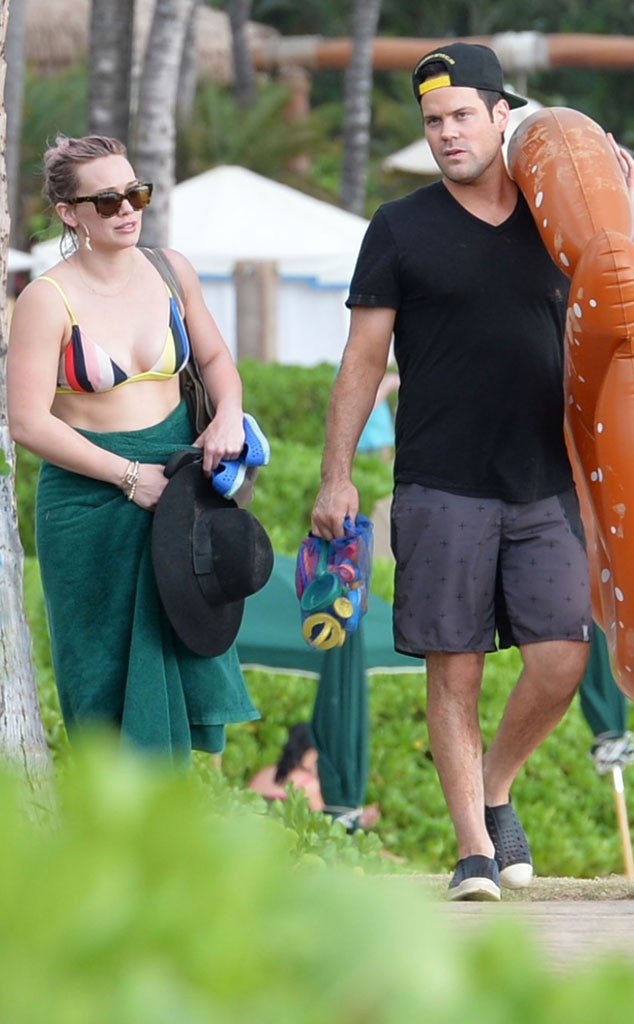 Chaos/STEWY/FAMEFLYNET PICTURES
Hilary Duff has said time and again that she will always be on good terms with her ex, Mike Comrie—and she wasn't just saying that. In fact, one week after the former couple's divorce was finalized, they were photographed vacationing together in Hawaii looking happy as can be. Hilary, 28, and Mike, 35, arrived in Maui Thursday with their only son, Luca Comrie, 3, in tow. Later that afternoon, the bikini-clad Younger actress was photographed walking on the beach.
The "Sparks" singer and Mike began dating in 2007, got engaged in February 2010 and tied the knot in August 2010. The spouses announced their amicable separation in January 2014. "They remain best friends and will continue to be in each other's lives," Hilary's rep told E! News at the time. "They are dedicated to loving and parenting their amazing son, and ask for privacy at this time."
The couple continued to spend together in the years that followed, even after Hilary filed for divorce in February 2015, citing irreconcilable differences. In court documents obtained by E! News, it was revealed that Hilary will have to pay Mike $2,408,786.40—50 percent of the value of their Beverly Hills mansion, which Hilary will keep. Mike, meanwhile, will keep a couple of cars, including a 2014 Bentley and a 2013 Mercedes SUV, as well jewelry and other possessions.
Chaos/STEWY/FAMEFLYNET PICTURES
Hilary and Mike signed an enforceable prenuptial agreement before getting married, meaning they share no community property, so anything either he or she earned before, during or after their marriage is theirs. Neither Hilary nor Mike (a retired professional hockey player) will pay spousal support. They were also awarded joint custody of their son, even though Hilary initially requested primary custody in her divorce filing, and they will split child-rearing expenses 50/50.
Last week, Hilary opened up about her new normal with Mike on The Ellen DeGeneres Show. "We have such a great kid, and we're both so obsessed with him. We are good friends and we laugh a lot and we have a great communication. We share pictures when one is not with Luca. Yeah, he's great," Hilary said of co-parenting as exes. "We are great and we keep on trucking."
Meanwhile, in Redbook's February issue, Hilary shared what she's learned since their breakup. "I don't want to say I wouldn't get married again, but it's not important to me. I don't feel I would need to be married to have another child. If I felt strongly enough toward someone or if someone felt strongly about it, I might say OK," she told the magazine. "But it's not essential."