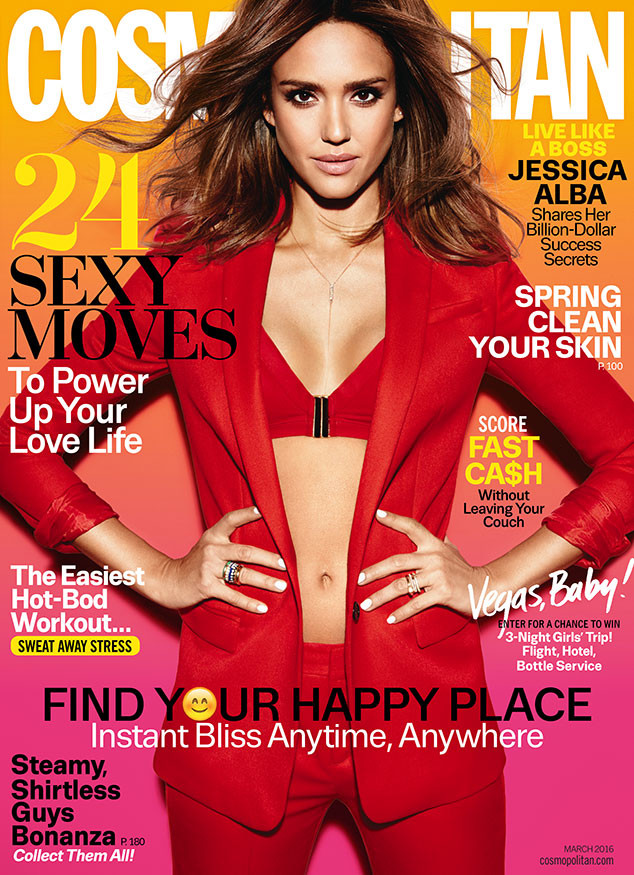 Tesh / Cosmopolitan
Jessica Alba remains one of the sexiest women in Hollywood, but she didn't always embrace her femininity.
The 34-year-old graces the cover of Cosmopolitan's March 2016 issue, sporting a red blazer and matching pants and bra that shows off her cleavage, highlighted by a lariat necklace. She also appears in two more sexy photos shot for the magazine, wearing a navy crop top and matching bottoms and a blazer, as well as a white cleavage-baring top with black lace-up trimming. The issue hits newsstands on Feb. 9.
"Most of my life, I identified more with my masculine side," Alba told Cosmopolitan. "I was kind of aggressive and super masculine in my early 20s—even into my mid- 20s. I got boobs when I was young...and I was like, 'What do I do?'"
"I was never the girl who they marketed," she said. "I was always feeling angry, like an impostor. I learned how to be cool with the feminine later in life."