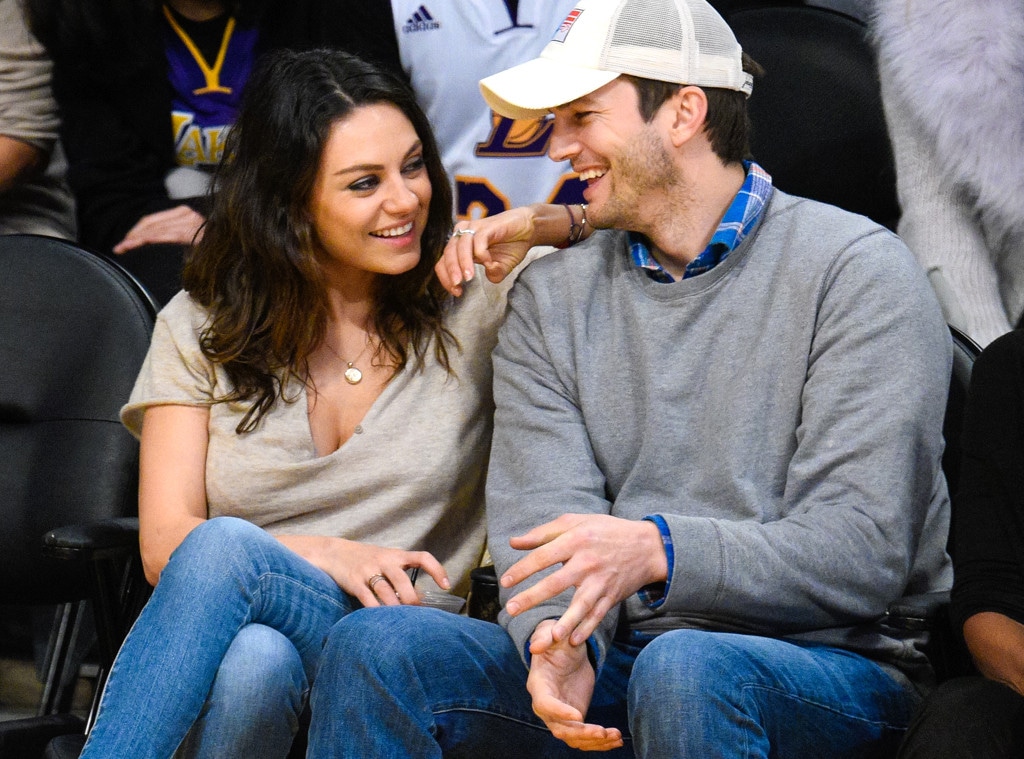 Noel Vasquez/GC Images
He's come a long way from his Von Dutch days.
Ashton Kutcher is celebrating his 40th birthday today, yet another hard-to-believe reminder it's been nearly two decades since the That '70s Show donned their first pair of bell bottoms together. But since starring alongside his TV sweetheart turned IRL-wife Mila Kunis and the rest of the gang, Kutcher has made the quite transition from Hollywood playboy to wildly successful actor-entrepreneur and dedicated father. 
Even when he replaced Charlie Sheen on Two and a Half Men, that was practically a side gig, he had so much going on. The tech junkie has gone on to invest in (and launch) a number of well-known startups, co-found an international human rights organization and was even tapped to become a product engineer for Lenovo. 
As for his personal life, Ashton isn't doing half bad either. Prior to tying the knot with his former co-star, the lovebirds welcomed their first daughter, Wyatt Isabelle, on Oct. 1, 2014. Their son, Dimitri Portwood, wasn't far behind, arriving in November 2016.
But if you're still skeptical as to how Ashton really shed his Dude Where's My Car image after all those years, check out the proof right here:
While Kutcher might have had to adjust to the balancing act that is fatherhood, the No Strings Attached star told Conan O'Brien just a month after welcoming Wyatt, "It's unbelievable. It's the greatest thing on earth. As soon as this child was born I immediately wanted to call my parents and just apologize because I never knew how much they loved me."
Even That 70's Show alum Topher Grace is amazed by how Ashton and Mila's love for each other has evolved since they first met on set in 1998. "It's funny, 'cause it's fascinating to everyone but it's fascinating to people in the cast, too," Grace revealed to Bravo's Andy Cohen. "Because, no. I mean, we were all buddies, but... It's so great. It's like two of your best friends from high school, like, met years after high school and got together. It's so cool."
Fun fact: Mila's first kiss was with Ashton while filming a scene. Aww!
Long before becoming a family man, Kutcher was fairly notorious for his jokester persona (Do his days on Punk'd ring a bell?). Now, Kutcher makes time to give back to his loved ones. Calling the project a "lifelong dream," the hunky celeb gifted his mother with a newly remodeled version of his childhood home on Mother's Day in 2015.
"My mom has been the greatest influence in my life—my parents gave me everything," he expressed. "They went to great sacrifices to give me the life that I have and anything I can do to say thank you is the right thing."
Leave it to a real man like Ashton to take on the less appealing aspects of babies with stride. Speaking to Luxury magazine, Kunis said, "My husband is an incredibly hands-on dad. When my child was born, I was breast-feeding and he said, 'That's your connection. I want to change every diaper.' When we're in public, if it's a pee-pee diaper, you can change her at the table, but if it's a poo-poo diaper, you don't want to affect the people eating. So he's like, 'Err, I guess I'm going to the ladies' room to do it.'"
Speaking of diaper duty, it appears becoming a father has also made quite the social activist out of Kutcher. Back in March of 2015, Ashton launched a Change.org campaign calling on two major retailers, Target and Costco, "to provide universally accessible changing tables in their stores."  
Prior to this, Kutcher took to Facebook to vent, "There are NEVER diaper changing stations in men's public restrooms. The first public men's room that I go into that has one gets a free shout out on my FB page! #BeTheChange"
With so much attention surrounding gender inequality within Hollywood, leave it to Ashton to speak up for his own leading lady. Lamenting over a press junket in which reporters only asked his wife, "What dress are you wearing?" Kutcher, responded, "Granted, I prize her as the most valuable person in the world to me. But you had a chance to sit with Mila Kunis and that's what you asked her?"
You tell 'em, Kutcher!
Aside from becoming quite the family man, Ashton has matured in ways that many might've never believed possible back when he was punking unsuspecting celebrities on MTV and wondering where his car is on the big screen. While Mila is clearly the love of his life, it was during his eight year marriage to Demi Moore that the humanitarian and entrepreneur began to emerge. In 2009, along with Demi, Ashton co-founded an international human rights organization known as Thorn: Digital Defenders of Children, which works to address the sexual exploitation of children and the proliferation of child pornography on a global scale.
"Once I started to gain some level of fame, I was constantly being asked to lend my name to this or that," he told W Magazine last year. "And I was wondering, Is there a single cause that I can really get behind?" After watching a Dateline special on sex trafficking in Cambodia, Ashton was clued in to the reality that child sex trafficking was also occurring in the U.S., with 70 percent of it taking place online. "This was a medium I had a lot of experience with," he told the magazine, "where I knew a lot of folks who could help." So he leveraged his massive social media presence and his connections with digital power players like Twitter, Microsoft, Google and Amazon to form alliances among competing companies to fight tech with tech. And if you haven't heard of Thorn, that's on purpose.
"There are some black-ops aspects to what we do," he said. "Revealing our tactics would get in the way of our goals."
Perhaps the most interesting thing about this newest facet of Ashton's career is that he's not doing it for the accolades or the attention. He's simply doing it because it matters to him. His venture capitalism has seen him invent in over 60 companies, including Skype, Airbnb, Spotify and Uber, as well as five startups through Sound Ventures, the fund he launched with Guy Oseary, Madonna's manager. His website A+ has become one of the biggest social media-driven content providers in the U.S. While we're certain the actor, who's currently starring in The Ranch on Netflix, will always have a career in front of the camera, his diversification hints at the notion that he knows that part of his career could go away at any moment. And he's making sure he and his family are set for life.
"Life doesn't happen to you," Ashton told a crowd in his home state of Iowa last year as he accepted the Robert D. Ray Pillar of Character Award. "It happens for you. Every. Single. Time. And as long as you have love and kindness and optimism and a pursuit of something greater in your heart, you're the lucky one. So this award is for you. It is for my family, it's for all four of my parents, it's for my wife, who kicks my ass on character every day."
With that mindset, we can't wait to see what this next stage of life has in store for Ashton.
This story was originally published on February 7, 2016 at 6:00 a.m.