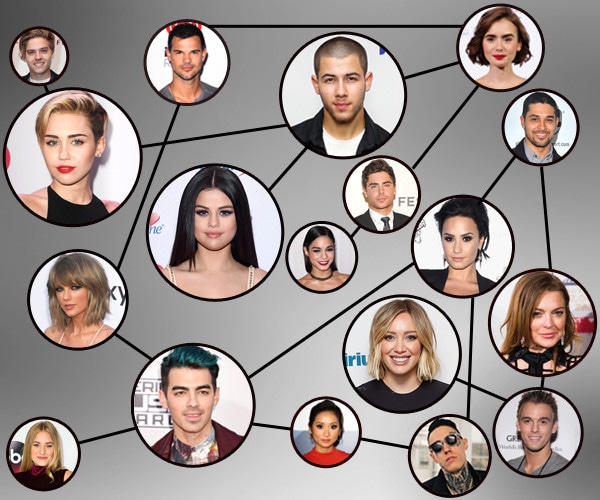 E! Illustration
The stars of Hannah Montana, Wizards of Waverly Place, Lizzie McGuire, Sonny With a Chance, Camp Rock and more may have put their Disney Channel days behind them as far as lives and careers go.
But Selena Gomez—answering questions nearly eight years later about dating Nick Jonas after he and Miley Cyrus broke up—just reminded us that the real drama and life lessons took place off-camera. So we, wanting to save you the dirty work, settled down with our calculators and protractors to map out just how many romances, however brief, sprang up between the stars of all those shows.
Add a Nickelodeon heartthrob and a country-pop star, plus some love triangles, guys who went on the radio and said too much, factor in a few rumors, carry the 1, divided by 7, take the square root and raise to the 4th power and...
Whoa, baby!
We remembered a lot of it—who will ever forget what happened between Hilary Duff and Lindsay Lohan because of Aaron Carter—but to see it all spread out before us like this... Gives a whole new meaning to the term "Mickey Mouse club."
So, while you've got your handy guide/spider web above to to boggle your mind, here's a quick refresher (* = not Disney):
Nick Jonas
Disney Connection: Camp Rock, Camp Rock 2: The Final Jam, Jonas L.A.
Dating History: Miley Cyrus, Selena Gomez, Olivia Culpo* (longtime now ex-girlfriend), Kate Hudson* (rumored), Lily Collins* (present, rumored)
He and Hannah Montana star Miley Cyrus were the darlings of the Disney Channel, dating for about a year between 2006 and 2007—which, at their ages then, was a lot. The following year, Miley lamented the "7 Things" she hated about a guy and Nick sang "Sorry" on a Jonas Brothers album. But also in 2008, Nick dated Selena, thereby ensuring that fans would never not think that Selena and Miley hated each other. He broke up with Culpo in June 2015 after two years together. In the February 2016 issue of Complex he admitted to having an "unbelievable connection" with Hudson but insisted he was single; most recently he's been spending time with Collins.
Larry Busacca/Getty Images for EJAF
Miley Cyrus
Disney Connection: Hannah Montana
Dating History: Nick Jonas, Patrick Schwarzenegger*, Liam Hemsworth* (present)
Before she and back-on-again fiancé Hemsworth met while shooting The Last Song in 2009, she and Nick were, as mentioned, the king and queen of the Disney prom. (And she adorably went on one little date with The Suite Life of Zack and Cody star Dylan Sprouse.) In June 2014, however, during the period that she and Liam were not together, Miley hurled a Selena cardboard cutout into the crowd at one of her concerts while singing "F U." A little lingering Jonas-brother bad blood between them, perhaps?
Zac Efron
Disney Connection: High School Musical 1-3
Dating History: Vanessa Hudgens, Lily Collins* (rumored), Sami Miró* (present)
Zac and Vanessa were the sweetest of steadies from around 2007 (roughly two years after they met) until 2010, after which they amicably went their separate ways. Zac was linked to Nick's new rumored flame Lily in 2012 and 2013, but he has now been officially dating model Miró since 2014.
Side Note: Vanessa has been dating former Nickelodeon star Austin Butler since 2011.
Selena Gomez
Disney Connection: Wizards of Waverly Place

Dating History: Nick Jonas, Taylor Lautner*, Justin Bieber*
Before it was all Bieber-or-not-Bieber all the time, Selena stopped a few hearts when she dated Nick, then toyed with some Twihard emotions when she and Lautner were briefly together. Lautner would go on to date Selena's dear pal Taylor Swift and, briefly, his Abduction co-star Lily Collins, though they had split by the film's premiere.

Christopher Polk/Getty Images
Joe Jonas
Disney Connection: Camp Rock, Camp Rock 2: The Final Jam, Jonas L.A.
Dating History: Amanda "AJ" Michalka, Taylor Swift*, Camilla Belle*, Brenda Song (rumored), Demi Lovato, Ashley Greene*, Blanda Eggenschwiler*, Gigi Hadid*, Jessica Serfaty*
And somehow he found the time to make music, too. Linked to fellow Disney Channel star Michalka (Aly & AJ) in 2006, he then famously dated Swift from 2007 to 2008, but they were broken up (famously instigated by Joe via telephone) by the Awkward New Year's Eve of 2008 and he became the rumored subject of "Forever and Always." After his breakup with Belle in July 2009, Song of The Suite Life of Zack and Cody ended up in his "rumored to be seeing" file. Then, in 2010, his relationship with Demi Lovato turned sour after a few months (they're friends nowadays) before he moved on with Greene, whom he dated into 2011. His relationship with Blanda lasted close to two years. He briefly dated Hadid last year and in January was spotted kissing Serfaty, a contestant on Cycle 14 of America's Next Top Model.
Michael Buckner/Getty Images
Brenda Song
Disney Connection: The Suite Life of Zack and Cody, The Suite Life on Deck, Wendy Wu: Homecoming Warrior, Get a Clue, Stuck in the Suburbs
Dating History: Joe Jonas (rumored), Trace Cyrus*
Linked to Joe briefly, the now 27-year-old actress dated Miley Cyrus' older brother Trace off and on starting in 2010, getting engaged to him in 2011. They ended their engagement in 2012 but things returned to amicable at some point, because they were spotted together in 2013 and looking cozy again in June 2015.
Demi Lovato
Disney Connection: Sonny With a Chance, Camp Rock
Dating History: Trace Cyrus*, Joe Jonas, Wilmer Valderrama* (present)
Before dating Joe, Demi had a brief relationship with Trace in 2009 that ended right as they went public. Then there was that mega-drama with Joe in 2010, but they're good friends now and months later she started dating Valderrama, who's been her guy off-and-on (but mostly on) ever since.
Lucy Nicholson/Getty Images
Hilary Duff
Disney Connection: Lizzie McGuire, The Lizzie McGuire Movie
Dating History: Aaron Carter*, Joel Madden*, Mike Comrie (ex-husband)
Duff didn't date her fellow network stars, but her now 15-years-ago two-year relationship with Nickelodeon star Carter (Zoey 101, though he did guest-star on Lizzie) is why we're all here, with Selena innocently comparing her Miley situation to Duff and Lindsay Lohan back in the day. Um...she probably didn't mean that, because in the early '00s it was all about Hilary vs. Lindsay and how Carter had seemingly thrown Duff over for Lohan, enough so that he was still sorry about it more than a decade later, even once Duff was married. She and Carter reunited after he briefly dated LiLo in 2003, but then the triangulation spilled over into 2004, when Rachel Dratch spoofed Duff while Lohan hosted Saturday Night Live.
"I knew it was going to happen," Duff told USA Today. "I don't think she likes me very much, but I wasn't insulted. I think it's really mean when they make fun of people. If I ever hosted SNL, I wouldn't do a skit about her. I liked that I got to dress all in pink, though." Lohan told Access Hollywood, "I'm sorry she felt offended."
Djamilla Rosa Cochran/WireImage.com; Gregg DeGuire/WireImage
Lindsay Lohan
Disney Connection: The Parent Trap, Freaky Friday
Dating History: Aaron Carter*, Wilmer Valderrama*, mostly rumored significant others*
The Wilmer tidbit was confirmed courtesy of his famous pre-Demi, TMI sit-down with Howard Stern in 2006 in which he indelicately named a number of names, including Lohan. But even when she was America's sweetheart after Mean Girls, Lindsay was already well-known among the Lizzie fan set as the girl who tried to come between Duff and Carter in 2003 but failed. (Until they just broke up again a few months later.)
Who was your favorite couple among the Disney Channel bunch?!