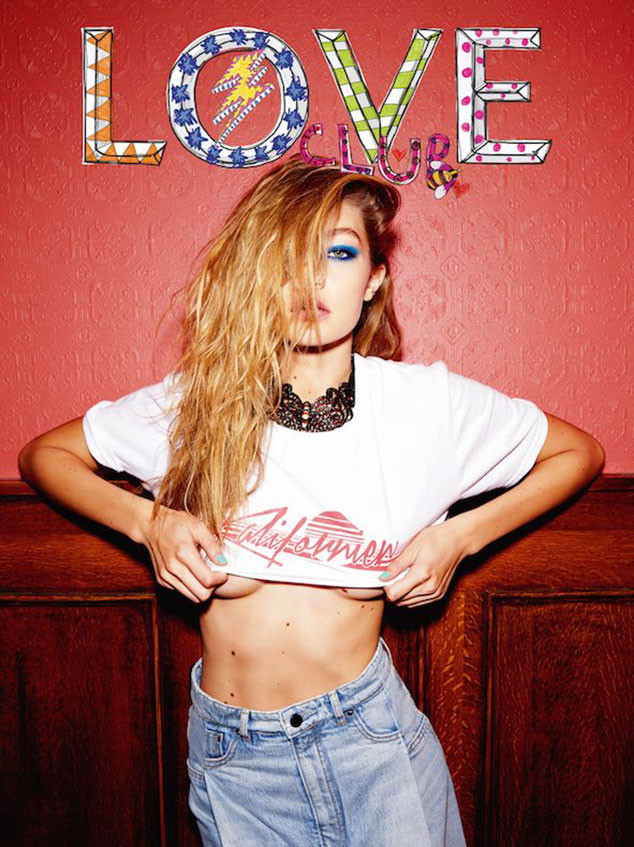 Carin Backoff / LOVE
WhileGigi Hadid exudes confidence with her sexy photo shoots and fierce catwalks, the model sometimes lets the haters get to her. So she seeks advice from one of her famous BFFs Kendall Jenner.
In an interview with LOVE magazine, Hadid, 20, talks about dealing with "trolls."
"When people are really harsh? I live with my best friend from high school, but usually I'm going to call Kendall because Kendall's the one who will always be like, 'You don't need that, just let it go,'" she said. "And I know that if that's working for her then it can work for me."
"It's not just us, it's a lot of women in the entertainment industry that are really supporting each other and showing that it's less cool to be mean than it is to be nice," she added. "I think that that's a very unique thing to our generation."
Hadid made her comments in an interview published in LOVE magazine's spring / summer 2016 LOVE Club issue, set to hit newsstands on Feb. 8. The model appears in a racy photo for the magazine, wearing a white cotton logo Koza T-shirt, which she pulls up to reveal some under boob, paired with blue washed denim jeans by Alexander Wang, blue eye makeup and her long, blond hair falling loosely over one of her eyes, '80s style