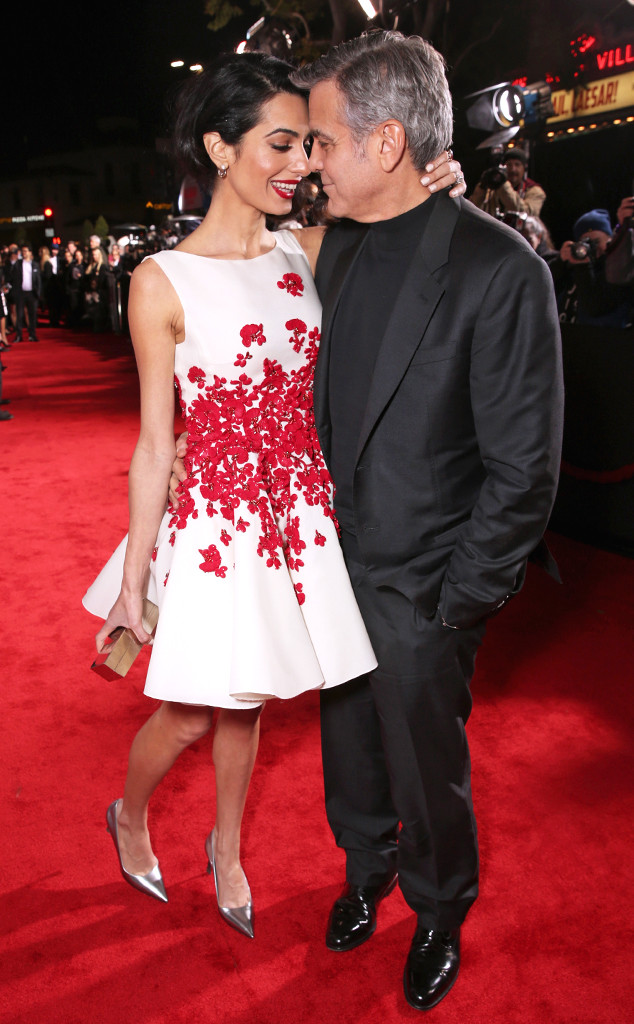 Todd Williamson/Getty Images
Love was in bloom at the Hail, Caesar! premiere Monday night.
George Clooney brought his wife, Amal Clooney, as his date to the star-studded event at the Regency Theatre in Hollywood. While the actor, 54, looked dapper in head-to-toe black, the fashionable human rights lawyer, 37, modeled a red and white mini dress by Giambattista Valli that was reminiscent of a similar floral number she wore just before her wedding in 2014. The British barrister's latest look was inspired by the fashion label's Spring 2015 couture collection.
At one point, the spouses shared a sweet moment on the red carpet, nearly going in for a kiss. George also posed for pictures with his co-stars Josh Brolin, Alden Ehrenreich, Jonah Hill and Channing Tatum. Earlier that day, he talked to E! News' Maria Menounos about his wife's birthday on Feb. 3. "No pressure, although it all runs together. You got Christmas...It's all at the beginning of the year," he said. Regarding their second Valentine's Day as husband and wife, George didn't want to ruin the surprise for Amal by talking about it beforehand. "I'm ready for it. I'm prepared," he said. "I'm not going to tell you what it is, obviously, because it'll get out."