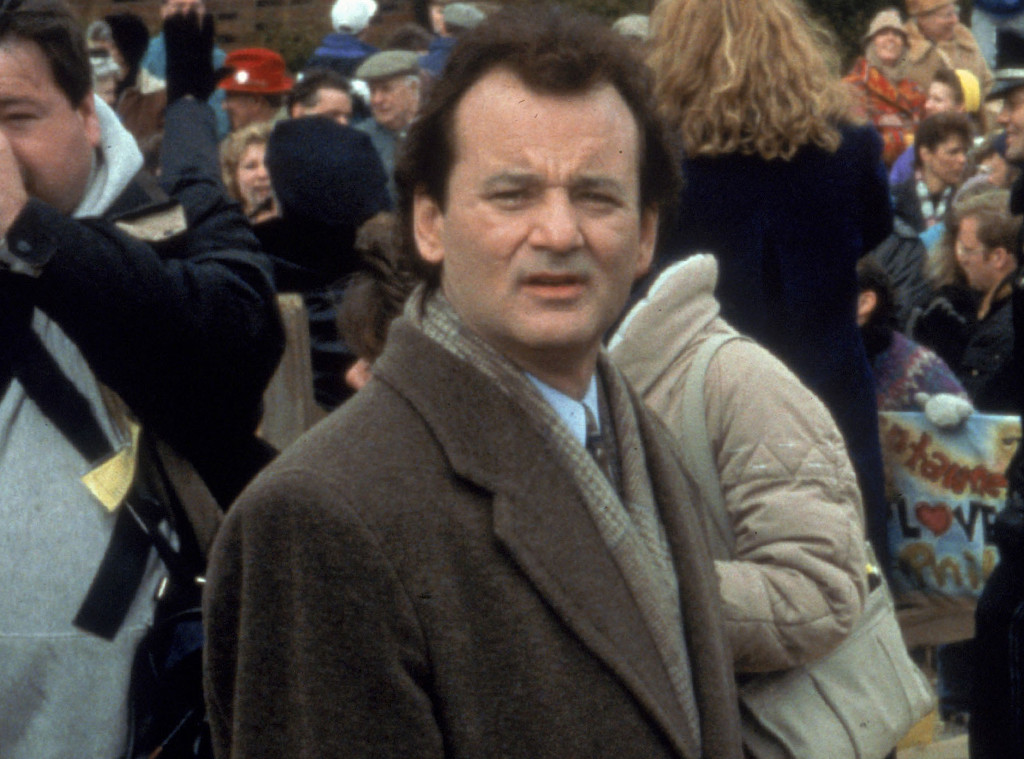 Columbia Pictures Corporation
You really know a movie is a classic and has become a pop culture touchstone when it is endlessly referenced and quoted and, ultimately, ends up becoming the go-to term for a universally recognized life experience.
And such is the case with the practically-perfect-in-every-way 1993 comedy Groundhog Day, starring Bill Murray as a weatherman forced to relive the same day over and over until he finally gets it right.
Saying something is "like Groundhog Day"—which is today, Feb. 2, cheers!—has become a much-used phrase, used to describe any repetitive experience, whether it bears any resemblance to the goings-on of the film or not.
Because people surely don't mean actual Groundhog Day, which hinges on whether a groundhog comes out of its burrow and sees its shadow and retreats back into the hole (six more weeks of winter weather) or doesn't (meaning spring comes early).
For instance, something happening to you this year that's similar to something that happened to you last year, isn't a Groundhog Day experience, but you certainly wouldn't be alone in perhaps using it to describe circumstances repeating themselves.
And boy has that phrase permeated every level of conversation, no matter how serious.
Usually the vibe remains lighthearted, such as when pop culture It girl Veronica Mars cracked in a 2007 episode: "I have to, have to, have to go to my morning classes tomorrow. Getting lost in the sex-nap-eat-repeat loop. I'm in the porn version of Groundhog Day."
Or when then-Cleveland Cavalier Antawn Jamison said of the team's losing ways in 2011, "It's like Groundhog Day, every day," he helped spawn the go-to metaphor for futility in sports, with the L.A. Times using the reference as recently as last week with regard to hopes that the appearance of Punxsutawney Phil (the titular groundhog at the center of the hubbub) today might help the Lakers snap their long, dreary cycle of losing. Their own personal Groundhog Day, that is.
Well sure, sports. The Lakers do look awfully similar night after night. But that jolly rom-com has found itself the comparative object in all sorts of really serious similes as well.
"Even when you go to jail, you know there's the time when you're gonna get out. But in this situation, it's never ending. It's just like Groundhog Day every day," Britney Spears famously said in the 2008 MTV documentary For the Record, talking about life when her dad was making all the decisions.
Talking about gender equality to GQ, Cate Blanchett lamented the lack of real change, saying, "We'll be back here like Groundhog Day next year having the same f--king symposium. It just has to shift."
Jason Kempin/Getty Images
It's obviously just part of the lexicon now, no longer confined to rom-com vernacular.
"This happens way too frequently," Bill Maher said a year ago on Jimmy Kimmel Live, referring to the massacre at the Charlie Hebdo office in France. "It's like Groundhog Day, except the groundhog keeps getting its head cut off."
Hell, even Secretary of State John Kerry told CNN last year that negotiating with Iran over its nuclear program "felt like Groundhog Day."
So there is literally no situation too dire to invoke the term.
And to think, Murray, Andie MacDowell and director Harold Ramis just thought they were making a rom-com with a life-affirming message, smart dialogue and some well-timed physical pratfalls.
So interesting that this fabulous little movie, co-written by Ramis and Danny Rubin, took on such a life of its own, possibly being referred to by people who've never even seen it. But if for some reason you haven't seen it, you most definitely should! If you live in the U.K., Sky is playing it 13 times in a row today; otherwise, you rent that business on Amazon, now!
Happy Groundhog Day to all—and we hope it's a good one, just in case all the same stuff happens tomorrow.
Related:
Jennifer Lawrence Freaks Over Bill Murray
We're going to guess that Groundhog Day is one of J.Law's favorite Bill Murray movies