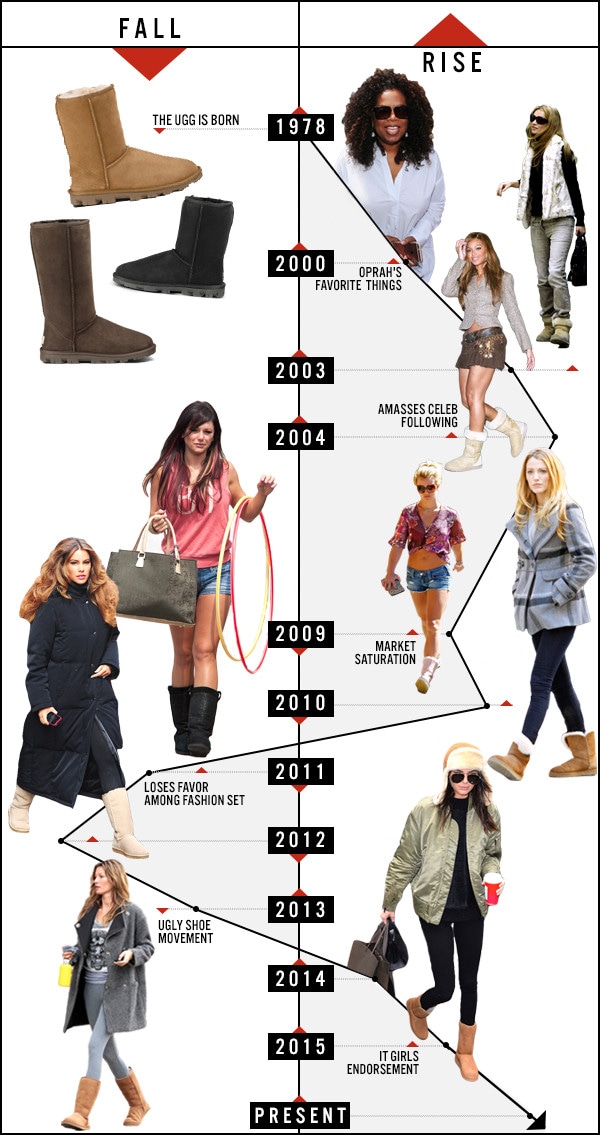 Besides Birkenstocks and Tevas, there's perhaps no shoe more polarizing than the Ugg boot.
These sheepskin-lined kicks have earned a spot in recent fashion history—not just because they've graced the feet of some of the biggest names in fashion and entertainment, but because the Ugg brand has seen increased profit almost year after year. That's sayin' something considering the fashion set seems to have a perpetual love-hate relationship with the shoe.
For proof, look no further than our entirely unscientific tracking system of the shoe's popularity among the fashion set. (Note: This is based on the tide of trends rather than sales numbers.)
So what did our extensive research show? Uggs are here to stay—if not for stylish reasons, but because they keep your feet damn warm.
Celeb Endorsement Is Key: The Ugg brand was first founded in 1978, gaining a following among surf subculture. However, it wasn't until the show was listed among Oprah's Favorite Things did it gain mainstream traction. When fashion elite like Kate Moss and pop queen Beyoncé were spotted wearing a pair, you can bet every mall in America was selling out.
Uggs Became Basic: During the 2000s, Uggs or Ugg-like boots saturated the market. And like with all trends, if something becomes overwhelming, it quickly loses favor among real trendsetters. Soon, images of celebs wearing the shoe on their day to day or between takes on set didn't feel aspirational—even if it was Blake Lively.
The Anti-Uggs Movement: Around 2011, it seemed like the fashion powers that be just couldn't take another bulky boot, with Uggs listed on several "trends we wish would go away"-type lists on fashion blogs and sites. At this point, if you saw a celeb wearing them, it was often for practical rather than stylish reasons.
The Ugg Shoe Craze Opened the Door Again: In a few months' time, fashion editors and street-style stars ignited the ugly show movement, in which all bulky, strappy and old-school (read: Tevas and Birkenstocks) were trendy again—the Ugg (kind of) included.
It Girls Can Bring Anything Back: The popularity of the Ugg surged again in the mid-2000s, thanks to celeb endorsement. Vogue even wrote a feature, proclaiming that the shoe was making a comeback. Then when young models like Kylie and Kendall Jenner and Gigi Hadid were spotted wearing them, the boot, which previously was seen as the scourge of all stylish shoes, became cool again. Suddenly, fashion blogs were telling us how to wear it like the It Girls—which to be honest, isn't that different from how we were wearing them before.
What Did We Learn: We'll see models and street-style stars wear the sheepskin boots, especially between shows during this fashion month. The winter will escalate the popularity of the trend…that is until it loses favor again because of market saturation—only for a new, fresh It Girl to bring it back in fashion's favor in a few seasons' time.