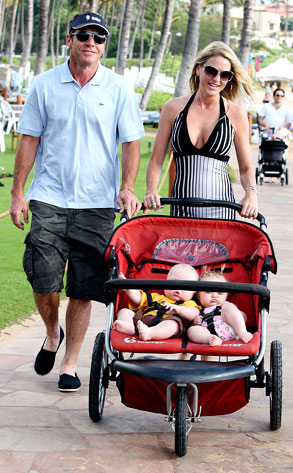 Will Binns, PacificCoastNews.com
Cedars-Sinai Medical Center is looking to clear up any bad blood with Dennis Quaid.
According to court documents obtained by E! News, Quaid and his wife Kimberly have accepted a settlement of $750,000 from the Los Angeles hospital, which last year took responsibility for giving the babies a life-threatening overdose of blood thinners. (View the agreement.)
Zoe Grace and Thomas Boone Quaid, now both 1, were being treated at Cedars for staph infections in November 2007 when an employee accidentally administered dosages of heparin (commonly used to flush out I.V.s) that were 1,000-times the recommended amounts for newborns, 10,000 units per millileter apiece instead of the standard 10.