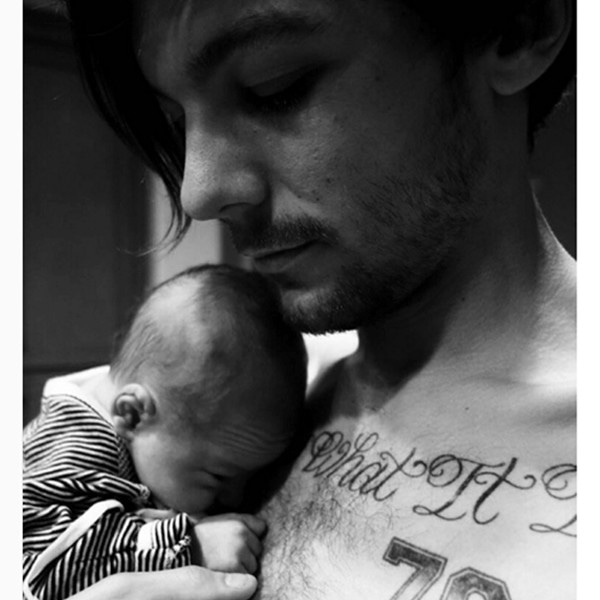 Instagram
Although fans are sad to see One Direction take a hiatus, it looks like the timing couldn't be any better for Louis Tomlinson.
The young singer is entering the exciting chapter of fatherhood after the birth of his baby boy last week, and now we can finally see the cutie's face! Tomlinson took to Instagram tonight to share an adorable photograph of his newborn son to his nearly 8 million followers, and revealed the little guy's name.
"Meet my little lad, Freddie," Tomlinson captioned the precious black and white photo of himself cradling his little boy. And then went to Twitter to tell fans, "Thank you so much for the all nice messages :)"
"I'm pleased to say my baby son was born yesterday :)  He is healthy and pretty amazing :) I'm very happy!!," Tomlinson tweeted last week at the time of Freddie's birth. 
E! News learned that the celeb was going to be a dad back in July, after confirming that the 24-year-old and Los Angeles-based stylist Briana Jungwirth were expecting a child together.
A source told us at the time that the duo are "super excited about it."
The pair met through mutual friends roughly a year ago after Tomlinson's split from longtime girlfriend Eleanor Calder. And although Jungwirth and Louis aren't a couple, the boy bander has expressed that he will be a very "hands on" dad and stayed by her side throughout the pregnancy.
Following the surprising news, Simon Cowell shared that he gave Louis some advice.
"I said to him, 'You man up. You're fortunate because you're in a position to be able to look after the baby and not worry too much about that,'" he told U.K. publication The Sun in July. "But I also told him, 'I've received bad calls in my life but this is not one of them. This is your business but I'm here for you.'"
Congratulations to the new parents!