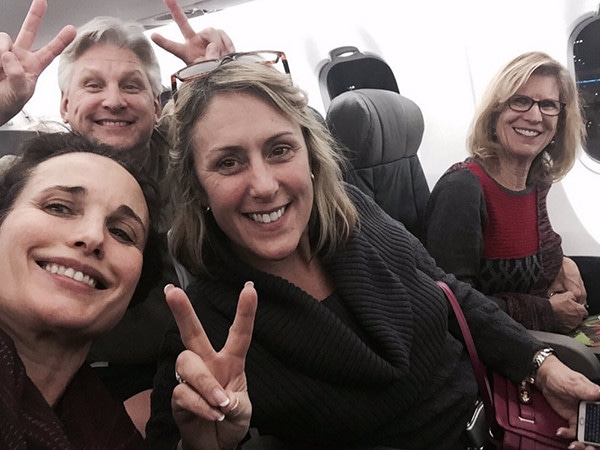 Twitter
Andie MacDowell was not happy when she and her dog were downgraded from first class to what she called "tourist" class on a recent American Airlines flight.
The 57-year-old Four Weddings and a Funeral, Magic Mike XXL and Groundhog Day actress took to Twitter recent to vent her frustration.
"@AmericanAir HELP I paid for first class & they put me in tourist because of my dog that I pre-booked & paid for," she tweeted Friday, alongside a selfie with fellow coach passengers.
She doesn't look that peeved in the photo—in fact, the actress is smiling widely.
MacDowell said she encountered "the rudest person I have ever had to deal with" while checking in for her flight in Charlotte, N.C.
"I was checked 1a when I left LA they told me they would reassigned me Charlotte first class he did not want to help," she wrote. "There was no excuse why the guy would not just let me ask someone to change seats he had a power trip."
"I just want to be reimbursed for my second part of my trip," she added.
American Airlines' pet policy states that up to seven pets, not including service animals, may travel on a domestic flight as a "carry-on" in the cabin of a plane if they meets certain age, size and health requirements and if they stay in its carrier under the seat in front of their owners' for the duration of the flight.
MacDowell tweeted that she and her dog, a 7-pound rescue pooch named after actress Ava Gardner, were moved because the pet "couldn't go under." There is no seat in front of 1A.
MacDowell later said her dog was "really relaxed and surrounded by sweet people" in their new seat.
MacDowell has reported the issue to American Airlines' customer service and has been communicating with a rep on Twitter. The company has not commented on the incident.
MacDowell's rant has received mixed reactions.
"1st world problems. Ugh," one person wrote.
"God bless you for tolerating the peasants..." another person tweeted.
Others defended MacDowell.
"100% agree w/ her," one person wrote. "She paid 4 service she didn't receive, compounded by an @americanair employee w/ tude."
"I'm very happy flying in coach I'm happy on a bus or the subway but if I play for first class, that's where I want to be," MacDowell said Sunday. "That was the point."
Watch:
Andie MacDowell's Daughter Rainey Talks Music Gig