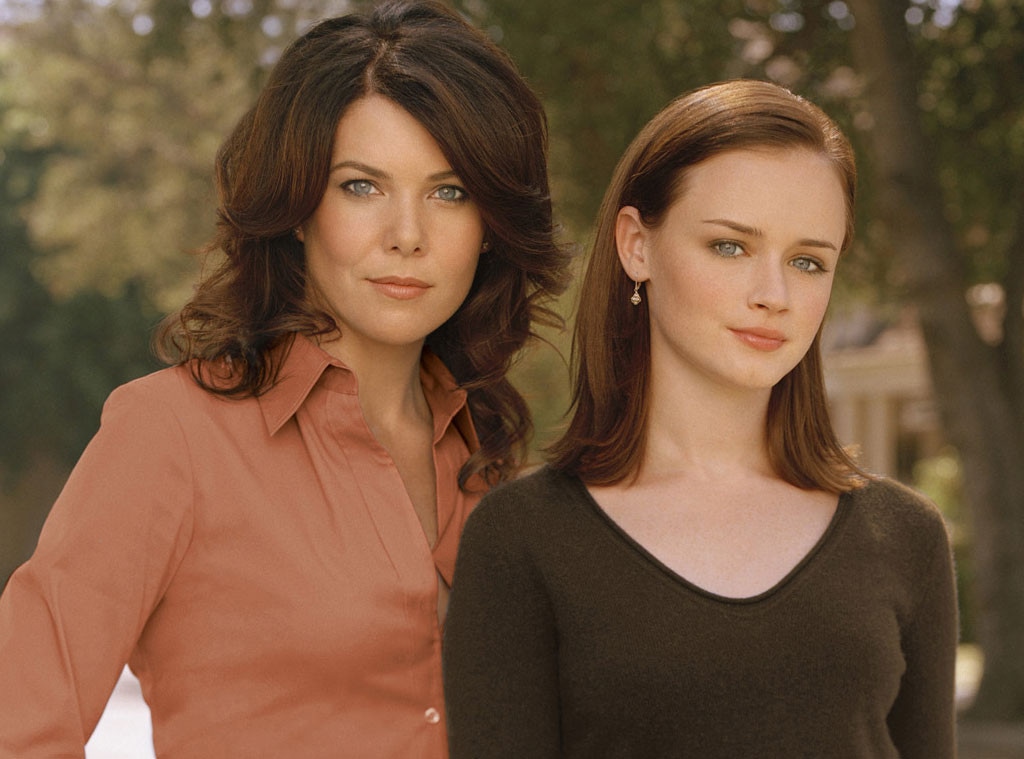 The WB
Gilmore Girls is coming back as a four-part miniseries on Netflix. It's real, you guys. It's happening! Stars Hollow, here we come.
E! News has learned the rumored four-part revival, which is being called a miniseries, is now officially happening at Netflix with Amy Sherman-Palladino and Daniel Palladino, executive producing, writing and directing. Shooting is slated to begin soon and wrap this spring. Of course, stars Lauren Graham (Lorelai) and Alexis Bledel (Rory) will reprise their roles as TV's most charming mother-daughter duo alongside Scott Patterson (Luke) and Kelly Bishop (Emily). Sean Gunn (Kirk) and Keiko Agena (Lane) have also signed on for the project which is currently untitled. It'll be produced by Dorothy Parker Drank Here Productions in association with Warner Bros. Television.
Here's what else we know: The Gilmore Girls revival will feature several new characters. We'll meet Berta and Alejandro, a Peruvian couple. Alejandro is both a handyman and a solid family man. Viewers will also meet Nat Compton, an incredibly miserable looking man who never smiles. Plus, there's 13-year-old Dewey, Clementina, a Portuguese nanny, 7-year-old Tim and his 5-year-old sister Gabriela, 9-year-old Korean-American twins Stevie & Kwan and a whole bunch of hippies at a commune. Intrigued?
How about the pleasant 30-something Paul, a Michael Cera type described as "a good boyfriend," the older high-end men's magazine editor Jim, the blue-collar Dwayne, and the good-looking, eager 20-something Damon.
News of Netflix's Gilmore Girls revival first surfaced in October. The cast previously assembled for an anniversary celebration in Austin where talk of a scripted reunion came up.
"Nobody here hates each other," Sherman-Palladino said at the time. "That's very important...If it ever happened, I promise you we'd do it correctly…It would have to be the right everything — the right format, the right timing, the right way. It would have to be honored in a certain way and I think that if you look around, we would all jump in and do it," 
Star Lauren Graham was also open to it. "I have no idea, that would be up to Amy and other people," she said. "I think because Amy didn't get to finish the show there is an unusual willingness to see what that would look like, so we'll see!" She also tweeted about the news in the fall of 2015. "DUDES. I can't confirm this," she tweeted. "But I also can't deny this..."
Meanwhile, Netflix kept mum (until today), aside from one comment. Netflix's Ted Sarandos told members of the press that he couldn't say anything. "I can't tell you much about Gilmore Girls," he said. "We're still working on buttoning down everything before our announcements."
Things are buttoned down!
Are you ready for more Lorelai and Rory Gilmore in your life?
Watch:
"Gilmore Girls" Reunion Without Paris Geller!?