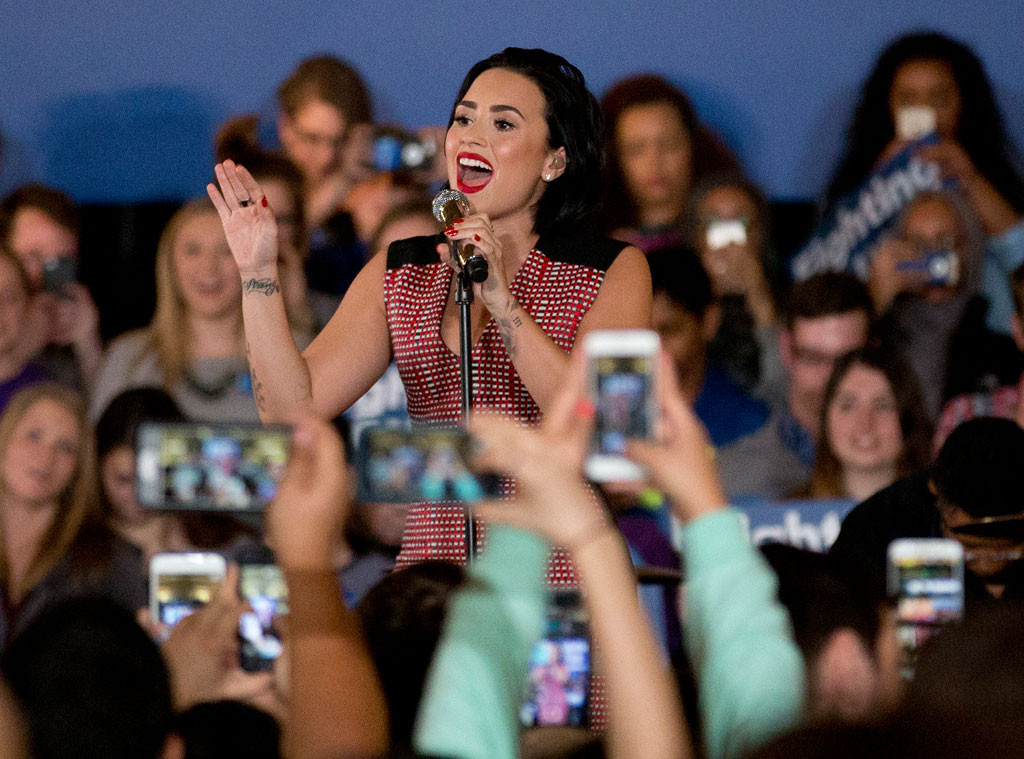 AP Photo/Jae C. Hong
Demi Lovato is the latest celebrity to back Hillary Clinton.
The "Made in the USA" singer, 23, joined the presidential hopeful at the University of Iowa campus in Iowa City, Iowa, Thursday, performing a set of three songs before nearly 2,000 fans. "I don't think there's a woman more confident than Hillary Clinton," Lovato said, playing off her new album/single's title. "Now it's time that we celebrate the real superstar that's here today."
As Lovato took the stage, students screamed, "I'm with her!"
Before she officially introduced Clinton, Lovato told the audience, "I couldn't be more thrilled to be here in support of her. The person that is about to walk on this stage, not only am I voting for because of her beliefs, her strength and the fact that she completely embodies the concept of women empowerment. Last, but not least, I am voting for her because I truly believe that there is nobody more qualified to run this country—our country—than our Secretary of State."
After Clinton, 68, appeared onstage, she praised Lovato's "extraordinary talent" and courage. "I want to thank her for how brave she is, how confident she is," she said of the outspoken singer-songwriter. "Because she is using her voice, not only to sing and inspire us through that, she is using her voice to reach out to so many people who need a little of help themselves, who have some challenges. She is determined to help people find their way through and I appreciate that.
"Demi, you have been just an extraordinary example for so many in the way that you have talked about issues that people find sometimes hard to talk about," the aspiring Democratic nominee added. "You've given hope and positive reinforcement to so many. I'm thrilled you're here, lending your voice and your example to our efforts to get people to get out and caucus."
"We go forward with confidence," Clinton said. "Thank you, Demi!"
With the Feb. 1 caucus nearing, Clinton has enlisted many young celebrities to help spread her message, including actress Lena Dunham, singer Katy Perry and soccer player Abby Wambach.