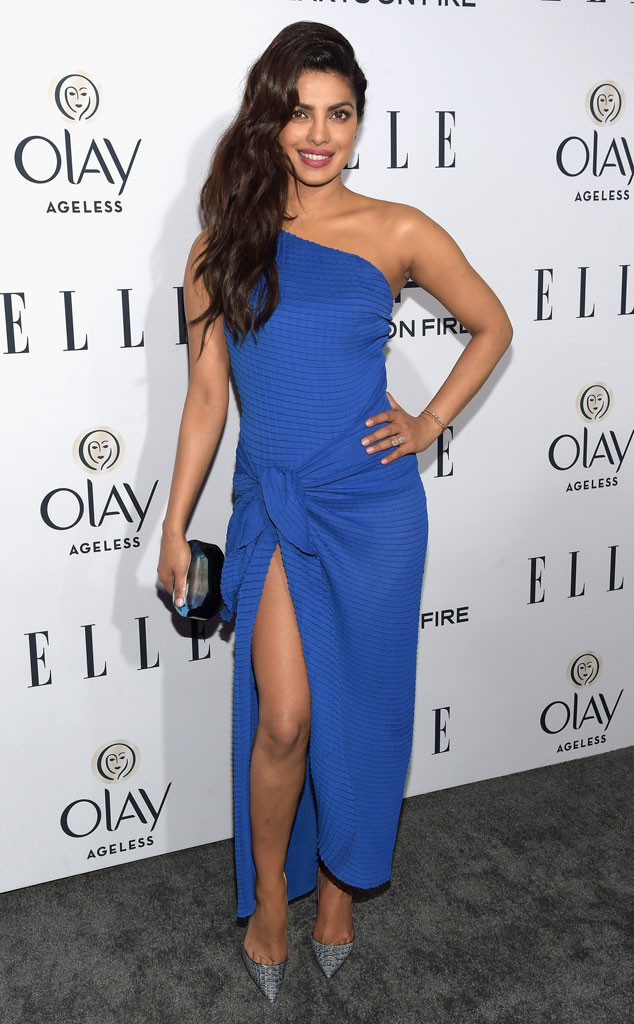 Jason Kempin/Getty Images
Though she's been a household name in India for quite some time, Priyanka Chopra sky-rocketed to fame with her kick-ass role in Quantico this year, which puts all eyes are on her when it comes to health, beauty and fashion.
So how does she maintain her toned figure for the role as well as all her red carpet appearances? Well, sorry to break it to you, but she doesn't.
Yes, the actress sat down with E! News' Zuri Hall and revealed her workout routine is non-existent.
Related:
Priyanka Chopra's Shocking Workout Routine
"I have great Indian genes!" she admitted. "You know, I'm lazy. I want to take advantage of the fact that I have a great metabolism. When I start getting fat I'll work on it!"
She continued, "I like food, and I don't like the gym, and as long as I look like this without doing anything, why bother?"
Let's be honest, if we didn't have to, we probably wouldn't workout either. Props to that metabolism, girl!
So even though she can't dish any fitness tips, Chopra does have great advice when it comes to fashion and getting ready to take on a red carpet.
"You need to feel comfortable. When you're comfortable, you feel confident. And when you're confident, the world is your oyster," she told us. "Most important, you gotta feel what you wear."
Cedric Buchet/Elle Magazine
As for her go-to beauty routine, she swears by less is more. "I think great skin is always important," she explained, "With lots of makeup, by the end of the night you look like you're melting!"
She said she maintains great skin by constantly moisturizing and faking a wide-awake look even when she's feeling tired.
"Every day, especially when I'm traveling in the airport and stuff and you're feeling tired, you have to make sure you look perked up," she told us. "So hydrating the face, which is moisturizing. I always put a SK2 hydration mask on my face 20 minutes before I land."
Her other go-to tip for faking a perked-up appearance: "Big shades and red lipstick!"
Check out our interview with her at the Elle Women in TV event below to hear how she went totally makeup-free for the magazine's February issue.
Related:
Priyanka Chopra Talks "Elle" Magazine Cover Shoot