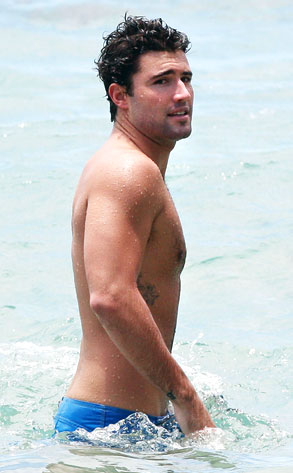 Will Binns; PacificCoastNews.com
Brody Jenner is so hot, he even makes straight guys cry.
In Bromance, Jenner's new MTV reality show—in which nine young guys compete to replace his former best friend Spencer Pratt to become the newest member of his posse—most of the contestants end up in tears.
Jenner tells me things got particularly weepy during some one-on-one time.
"I did this whole sit-down with these guys, which we called Broprah," Jenner tells me. "I was sitting around and would say, 'OK, now tell me about...' and then all of a sudden it got to be like, 'Whoa!' We're uncovering some deep stuff. These big, grown guys are sitting around crying over being friends with a dude."
During a group chat, Jenner says, "We started to get into family things and everybody started crying. I'm sitting there and you know when everybody around you is crying, how do you not cry? It was hard not to. So there was one time I almost shed a tear."
Crying wasn't the only male bonding going on. Read on for details about Jenner's all-male hot-tubbing...