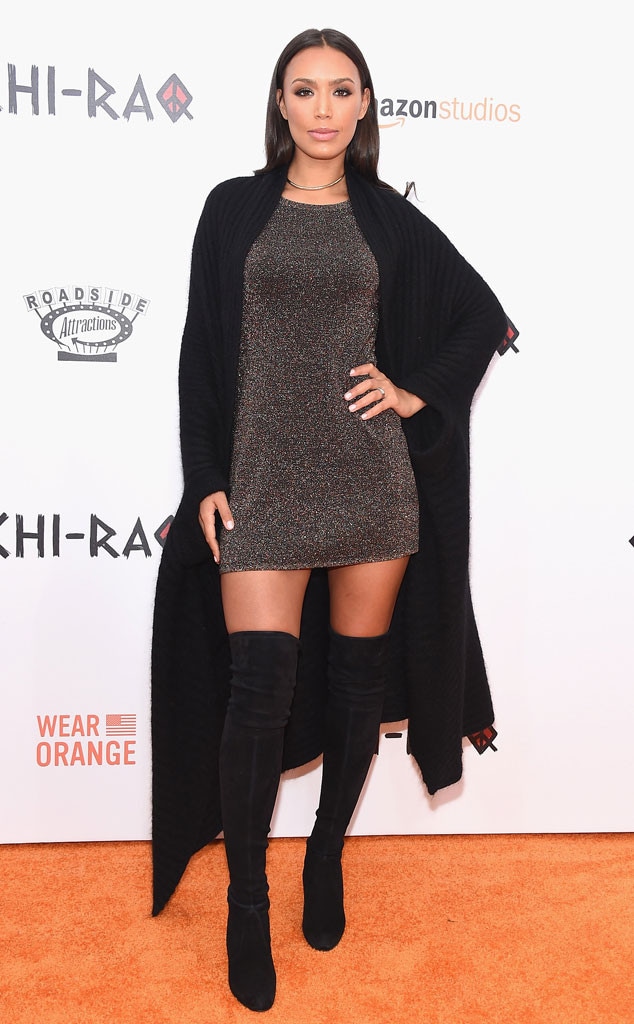 Gary Gershoff/Getty Images
Dwayne Johnson just announced the new addition to the Baywatch cast, and let's just say she has a lot to bring to the table…
Ilfenesh Hadera will play The Rock's love interest in the reboot film based off the popular 90s series. He told fans, "Casting my #BAYWATCH love interest wasn't easy…For our coveted role of 'STEF,' she had to be a lot of things: Strong, intelligent, formidable, beautiful and funny. Want to welcome the talented @ilfenator Ilfenesh Hadera to our #BAYWATCH family."
So who exactly is this "walkin' smokestack" he refers to? After doing a bit of Internet stalking research, we've come to find out she's a badass with a kind heart and a gorgeous face to go along with it…and we're guessing she's about to be a lot of people's new Hollywood obsession.
Here are 8 things to know about her:
1. She made her acting debut in 2010: According to IMDB, the gorgeous actress started her career in 2010 with a role in the small film 1/20. Since then she has worked on shows like The Blacklist, Show Me a Hero, Chicago Fire and currently Billions.
2. She's a New York City native: Raised in the "212" (as she says on her Twitter account), Hadera still has a love for all things NYC.
3. She just turned 30: The brunette bombshell took to Instagram to share a photo from her 30th birthday party during which she got an extra special surprise (which will make for our next fun fact).
4. She's engaged: Hadera recently said "yes!" to her beau, Alex Soroken, who asked to marry her on her 30th birthday. He dedicated the photo above to her on Instagram, writing: "Happy Birthday to my best friend, my companion, my world, and the love of my life @ilfenator . You've brought a brilliance to my life that I could never have imagined. So here's to a lifetime of happy returns to THIS day babe. I love you all the world."
5. She's a family gal: Whether she's posting photos hanging out with her mom or vintage snaps of her dad, she's always talking about her family.
6. She gives back: In September she helped promote and raise awareness around the African Services Committee, helps provide services to enhance immigrants' prospects of thriving in this country through literacy programs, HIV testing and counseling, a food pantry, housing and more.
7. She's an animal and nature advocate: From sharing photos of cute lil' pups, holding frogs or sharing quotes about the importance of saving the environment, Hadera is definitely a big advocate for Mother Nature.
8. She's strong, smart and tough: Johnson's Instagram posting containing the exciting casting news described Hadera as "a 5'11 walkin' smokestack with legs for days. Smart and tougher than new rope."