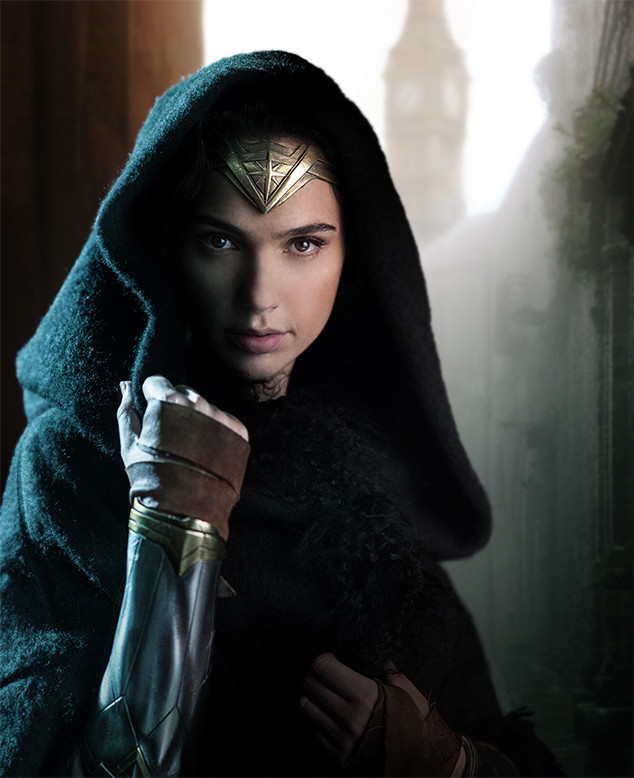 Clay Enos/Warner Bros. Pictures
Who run the world? Girls!
During The CW's "Dawn of the Justice League" special Tuesday, filmmaker Kevin Smith and Chief Creative Officer of DC Comics, Geoff Johns, gave fans the first sneak peek at the Wonder Woman movie, debuting in theaters June 23, 2017. "Wonder Woman's like one of the greatest superheroes out there, but people don't know her origins like they know Superman's origin and Batman's origin. So, what we want to do in the film is really tell people who she is, where she comes from and why she does what she does," Johns said. "We've never seen it on film before."
Gal Gadot—who will be introduced as Wonder Woman/Diana Prince on March 25, 2016, in Batman v Superman: Dawn of Justice—is excited for fans to meet the demigoddess, daughter of Zeus. "We're going to see her coming of age, the entire history, what's her mission," Gadot said.
Wonder Woman's people have turned their backs on who they are—and she won't stand for it. "These Amazons were once created to protect man's world, but they've since abandoned it," Johns said. "Diana is asking constantly, 'Why don't we go do and created to do and protect man?' They say, 'Because they're not worth it.' And this takes her on a journey into our world." Fans of the comics won't be disappointed with her interpretation of the role. "She stands for equality, and that's really important," Johns said. "I think that's why people love the character."
No disrespect to Batman (Ben Affleck) or Superman (Henry Cavill), but Wonder Woman "is the best fighter in the DC universe. She has strength and speed and she's been training her whole life for war," Johns said. Director Patty Jenkins added, "The greatest thing about Wonder Woman is how good and kind and loving she is, yet none of that negates any of her power." Chris Pine—who plays Wonder Woman's love interest, military man Steve Trevor–is thrilled that a female superhero is finally getting a standalone movie. "Telling a story like this now is pivotal and important," the actor said. "The story of a very powerful woman."
Meanwhile, the second trailer for Suicide Squad—set to Queen's "Bohemian Rhapsody"—premiered Tuesday. Directed by David Ayer, the film stars Adewale Akinnuoye-Agbaje as Killer Croc, Viola Davis as Amanda Waller, Cara Delevingne as Enchantress, Jai Courtney as Boomerang, Jay Hernandez as El Diablo, Joel Kinnaman as Rick Flagg, Jared Leto as The Joker, Margot Robbie as Harley Quinn and Will Smith as Deadshot. The film arrives in theaters Aug. 5.
Related:
Chris Pine Gushes Over "Wonder Woman" Gal Gadot