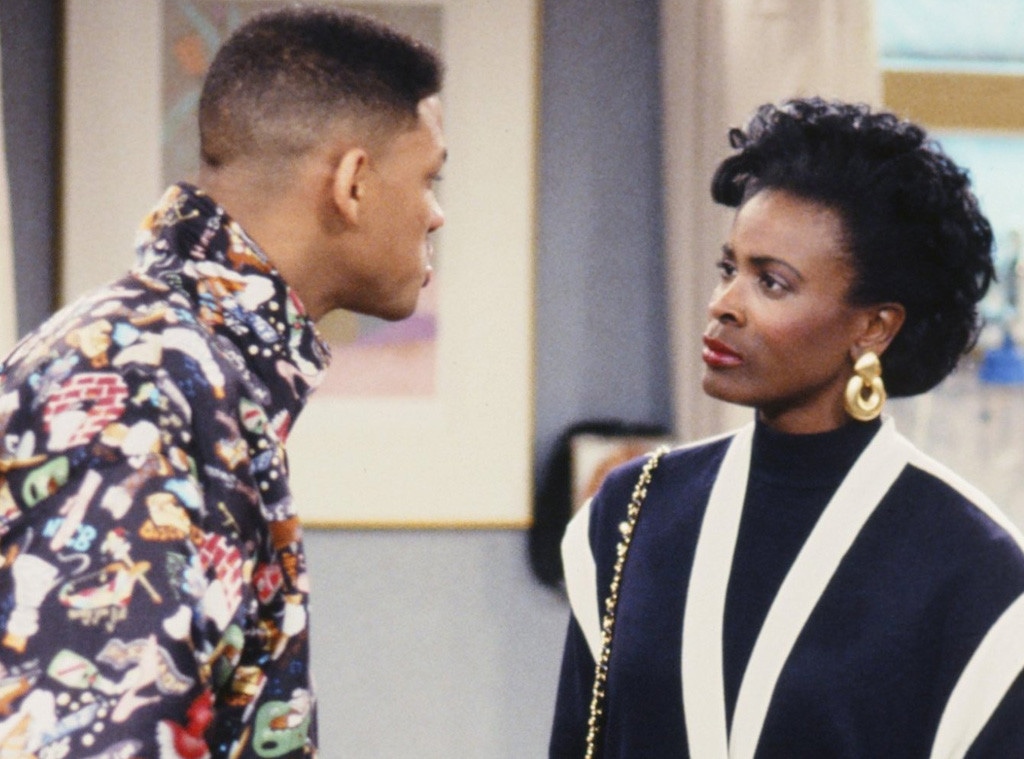 NBC
Remember that time when The Fresh Prince of Bel-Air's Aunt Viv was all of a sudden…a different Aunt Viv? Janet Hubert played the matriarch for three seasons and then Daphne Maxwell Reid was there for the show's final three seasons.
Life went on and the final episode of Fresh Prince aired almost 20 years ago—but as Hubert proved yesterday, bad blood doesn't spoil.
Seemingly coming out of nowhere, Hubert posted a video response to Jada Pinkett Smith's call to boycott this year's Oscars over the lack of nominees for people of color. And not only wasn't it a show of support, the pointed slam drastically morphed into a major dig at Will Smith, whom she historically blames for her ouster from the hit show.
Now this is a story all about how the feud got flipped, turned upside down (and every which way):
Though it never cleaned up in the awards department, Fresh Prince was a huge NBC hit (and is enjoyed in repeats to this day) and was the vehicle that rocketed Will Smith to super-stardom. Less than two months after the series finale, Independence Day opened in theaters and the rest is history.
But in the fall of 1993, season four premiered with a new Vivian Banks in the house—and while the lack of social media back in the day precluded the sort of conspiracy theories and immediate demand for an answer from the powers in charge of Fresh Prince, those things never happen for no reason.
Of course it wasn't unheard of, the ol' turn-a-blind-eye re-cast dating as far back as the Darrin Stephens switcheroo on Bewitched and beyond. Roseanne, which replaced Beckys (and then switched them back!) even acknowledged the shakeup with a joke about Bewitched.
However, the climate under which Hubert left was apparently not hospitable enough for a comeback.
At the time, her exit was attributed to the age-old standby of creative differences. And that's certainly one way to put it.
Smith told an Atlanta radio station in 1993, mid-original-controversy, "I can say straight up that Janet Hubert wanted the show to be The Aunt Viv of Bel Air Show because I know she is going to dog me in the press. She has basically gone from a quarter of a million dollars a year to nothing. She's mad now but she's been mad all along. She said once, I've been in the business for 10 years and this snotty-nosed punk comes along and gets a show.' No matter what, to her I'm just the Antichrist."
And he was correct in that Hubert wasn't just going to let it go. Presumably, however, he couldn't have predicted that anyone would still be talking about it more than 22 years later.
Denise Truscello of WireImage.com
In an interview with what later became Huffington Post's Black Voices section, Hubert said, "My departure was planned for a long time... There will never be a reunion of the Fresh Prince. Will Smith and Alfonso destroyed a 20-year-career with untruths. I got slammed. Will apologized later in an Essence Magazine article, but it still lingers. It's still there."
Alfonso Ribeiro, who played preppy son Carlton Banks, said during a stand-up comedy set in 2009 dug up by Perez Hilton (during which the future Dancing With the Stars winner also talked about his own almost-firing from Fresh Prince) that everyone he worked with was great, except…
"First mom, not so much," he cracked. Cue the boos and hisses, interestingly.
"You know, legally I'm not allowed to talk about it," Ribeiro continued. "But hey, why not? Basically, at the end of the day, the [he bleeped himself] was crazy. I did not curse…She went nuts! Long story short, and there were days when we were all on the set and she would literally go off on people and they got to a point by the time the second season came around where we're like, 'This is unacceptable.' We felt like, when we were doing The Fresh Prince of Bel-Air, that we were a family…She, at that point, ruined that, and she made it very difficult for us to work, and unfortunately she was then fired. They brought in Daphne Maxwell-Reid, who we absolutely loved, and we moved on. Oh well."
Well that stand-up set took a turn for the serious.
Addressing the members of the crowd who seemingly took offense in defense of the original Aunt Viv, Ribeiro acknowledged, "She was funny. She was a very talented actress." Going falsetto, he added, "Cuckoo!"
In 2010, Hubert recalled to BlackAmerica Web, per Huffington Post, "I was a dark-skinned, African-American mother, and Will used to tell the you're-so-black jokes to the audience before the show, and at one point, I came out and stopped him, and the audience went 'Woooo,'" she remembered. "He didn't understand how unbelievably disrespectful that was to women like me... 'Yo mama's so black, when she looks at her shoes, she thinks she's looking in the mirror. Ha, ha!'
The Will vs. Aunt Viv lore boiled up again in 2011, nearly 18 years after the fact, when Smith posted a Fresh Prince cast pic that did not include Hubert.
She was soon after asked by TMZ about the possibility of a Fresh Prince reunion, and she said, "There will never be a reunion…as I will never do anything with an a—hole like Will Smith. He is still an egomaniac and has not grown up. This constant reunion thing will never ever happen in my lifetime unless there is an apology, which he doesn't know the word."
But an apology for what, exactly?
Chris Haston/NBCU Photo Bank
If yesterday's video is any clue, it sounds as though Hubert continues to blames Smith to this day for not going to bat for her and the rest of his co-stars when it came time to negotiate a pay raise for the cast "like white shows do," like Friends. (The six principal Friends stars' unprecedented $1 million-an-episode pay hike didn't happen until 2002, eight years after Fresh Prince ended.)
But in 2013, it sounded as though she was more amenable to the idea of a reunion (which, as we all know by now in 2016, never happened anyway).
"It was a negotiation that should have come back like most do," Hubert told The Grio in March 2013. "We were a very successful show and I felt like I was an integral part of that, and felt valuable, but you cannot feel valuable in Hollywood."
Asked about rumors that she feuded with Smith and with Ribeiro, she said, "I think what happened, because the audience was so on my side at that time, that Will probably felt like he needed to go out, and he needed to tell a lot of lies. Alfonso went out to a college and told a lot of lies, but the problem is I have proof that a lot of that didn't happen."
"I would say to him [Smith], we need to heal this," Hubert also said in the Grio interview. 'You've done some things, you've said some things, that were totally untrue and you know that they were untrue. I've said some things that I probably should have never said. But you've never heard them come from my mouth. Especially the TMZ thing last Christmas; my Mom passed away. So there I was again in the media getting beaten up…and you get tired. I'm tired. Aren't you tired Will?"
The water-under-the-bridge tour continued in May 2013, when she told omg! Insider that Smith did "some heinous, horrible things to me—they were like bad kids, Will and Alfonso—especially Alfonso. He said that I was crazy and nobody wanted to go to lunch with me."
But Hubert also said at the time, "We need to have a reunion, we have to end this horrible, 21-year war. I think we all owe each other an apology."
And in 2014, on TV One's Life After, Hubert recalled moving to L.A. to do the show—"and the rest is mystery history."
"When we first started Fresh Prince, it was such a joy...especially in the beginning," she said. She added, a moment later, "If you want me to kiss your ass, then you have to put it in my contract."
Apparently no one ever let bygones be bygones—and no one jumped on the reunion bandwagon with her, though Fresh Prince was widely celebrated on the 25th anniversary of its premiere in 2015.
Hubert's video message continued yesterday: "I seem to recall, twenty-maybe-six, -seven years go—25, whatever it was—I don't even remember. I seem to remember at option time coming to you and saying, 'You know what, Will? You're the star of the show. Why don't we all get together and, with you, maybe we could get a little raise? Maybe the network since the show is, you know, such a hit and you being the star of the show, your influence would help us greatly, like they did on Friends. Like white shows do!' Remember that? Do you remember that, 'cause I do. Mmm.
"And your response to me was, 'My deal is my deal and y'all's deal is y'all's deal. Well karma must be a bitch because now here you are."
Yes, Will Smith is in such a rough place right now.
He got a Golden Globe nomination for Concussion, one of the movies cited as being overlooked by Oscar this year, he's one of the highest-paid actors in Hollywood and he and Jada just celebrated 18 years of marriage on Dec. 31.
Times are tough.
But it's also his move if he wants to maybe, finally put a coda on this decades-spanning tale. He won't truly be able to be the faultless prince of a town called Bel-Air otherwise.
(E! Online is a member of the NBCUniversal family.)