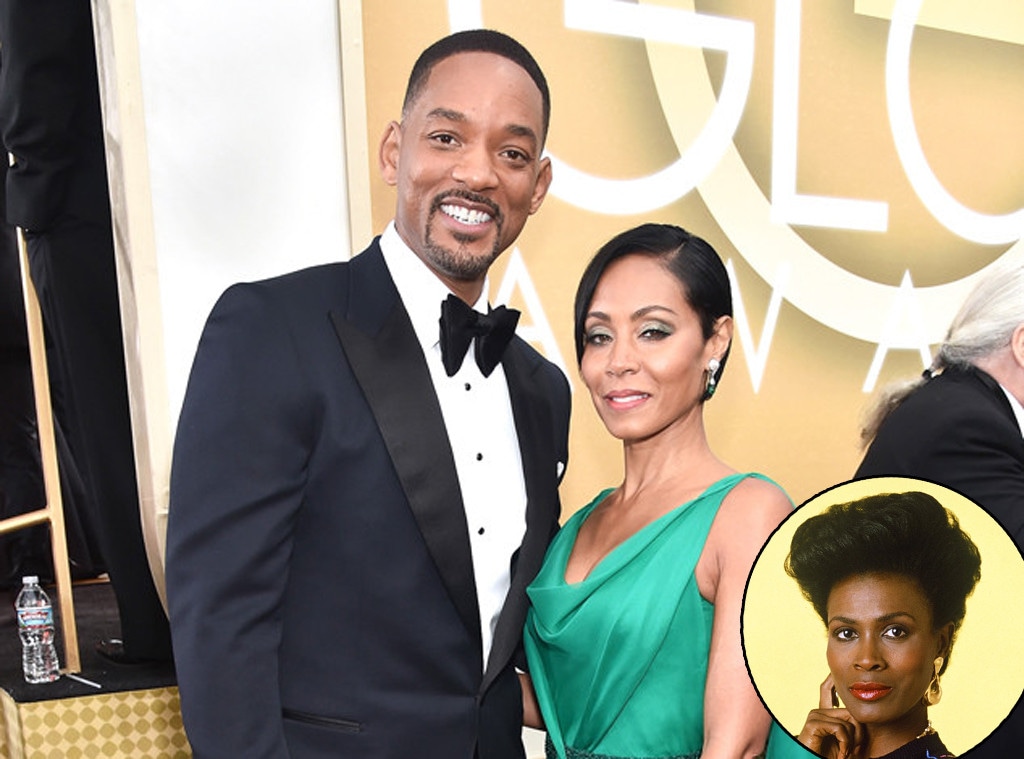 Alberto Rodriguez/NBC/NBCU Photo Bank via Getty Images; NBC
Whoa. Grab some tea, because Aunt Viv is serving some serious shade tonight.
The Fresh Prince of Bel-Air's Janet Hubert just came out swingin' at former co-star Will Smith and his ladylove Jada Pinkett-Smith, who recently released a video voicing her desire to boycott the Oscars for the lack of diversity in their nominees.
Hubert released a 4-minute video on YouTube calling Jada out, and goodness, the sass cannot be denied.
"First of all, Miss Thing," she began (oh yeah, we're not kidding), "does your man not have a mouth of his own with which to speak?" OH SNAP.
She continued, "The second thing, girlfriend, there's a lot of s--t going on in the world that you all don't seem to recognize. People are dying. Our boys are being shot left and right. People are starving. People are trying to pay bills. And you're talking about some [expletive] actors and Oscars. It just ain't that deep."
Hubert went on to say, "And here's the other thing, for you to ask other actors, and other black actresses and actors, too, to jeopardize their career and their standing in a town that you know damn well you don't do that. And here's the other thing—they don't care. They don't care! And I find it ironic that somebody who has made their living, made their living and made millions and millions of dollars from the very people you're talking about boycotting just because you didn't get a nomination, just because you didn't win."
There is obvious bad blood between the former sitcom star and Will Smith (cue the awkward Aunt Viv switcheroo that we were supposed to just let go unnoticed), and she made sure to comment on that, too.
"Well karma must be a bitch, cause now here you are. Here you are, you've had a few flops and you know there are those out there who really deserved a nod," she said.
"At the Oscars...people of color are always welcomed to give out awards...even entertain," Jada wrote on Twitter. "But we are rarely recognized for our artistic accomplishments. Should people of color refrain from participating all together? People can only treat us in the way in which we allow. With much respect in the midst of deep disappointment."
The lack of diversity in this year's Oscar nominations was noticed from the get-go, and instantly resurfaced the popular hashtag #OscarsSoWhite.
With the controversy (clearly) on everyone's minds and the topic of numerous conversations, Academy president Cheryl Boone Isaacs released the following statement tonight:
"I'd like to acknowledge the wonderful work of this year's nominees," she said. "While we celebrate their extraordinary achievements, I am both heartbroken and frustrated about the lack of inclusion. This is a difficult but important conversation, and it's time for big changes.
"The Academy is taking dramatic steps to alter the makeup of our membership. In the coming days and weeks we will conduct a review of our membership recruitment in order to bring about much-needed diversity in our 2016 class and beyond," Boone Isaacs said in what amounted to a rare and unusual move on the part of the Academy.
"As many of you know," she continued, "we have implemented changes to diversify our membership in the last four years. But the change is not coming as fast as we would like. We need to do more, and better and more quickly."
"This isn't unprecedented for the Academy," Isaacs added. "In the '60s and '70s, it was about recruiting younger members to stay vital and relevant. In 2016, the mandate is inclusion in all of its facets: gender, race, ethnicity and sexual orientation. We recognize the very real concerns of our community, and I so appreciate all of you who have reached out to me in our effort to move forward together."