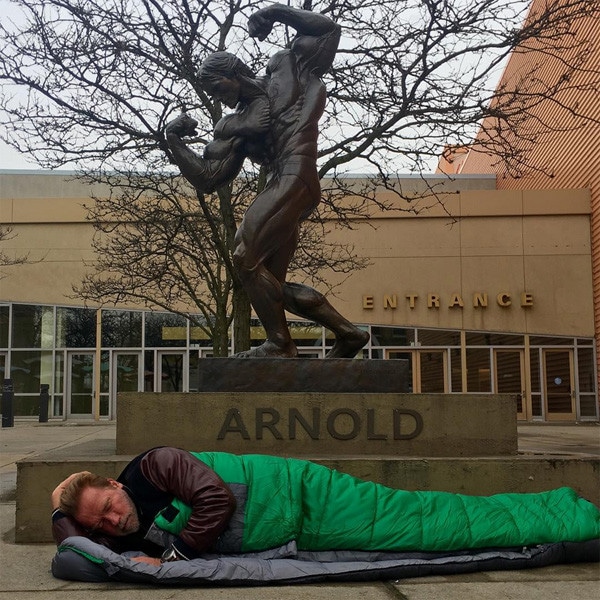 Instagram
Rest assured, Arnold Schwarzenegger will be first in line for...
Hmm.
The movie star and former governor of California poked a little fun at himself today while in Columbus, Ohio, pretending (we assume) to take a snooze next to the big bronze statue of his bodybuilder self that lives outside the Greater Columbus Convention Center.
"How times have changed," Schwarzenegger captioned a photo on Instagram in which the scruff-sporting star bundled up in a sleeping bag in front of the statue, which was installed permanently in the capital city, sight of the annual Arnold Fitness Festival, in 2014.
Somehow, between the leather jacket and the immaculate sleeping bag, we think the Terminator star is doing OK.
"You're our friend," then-Mayor Michael B. Coleman told Schwarzenegger at the dedication in October 2014. "We want to memorialize that forever in front of our convention center."
Whether that extended to include an invitation to camp out anytime...
The actor is actually in town shooting 478, based on a true story about the aftermath of the July 2002 midair crash of two planes in Germany. Schwarzenegger plays a man whose wife and kids were aboard one of the jets.
Apparently Schwarzenegger had a say in where the movie was shot, because when local news outlets reported that the production was coming to Ohio, officials said the star chose Columbus because of his longtime love for the city.
But the least they could do is put him up in a hotel. You'd never catch Sylvester Stallone napping on the Rocky steps in Philadelphia! (But if you do, please send pics.)