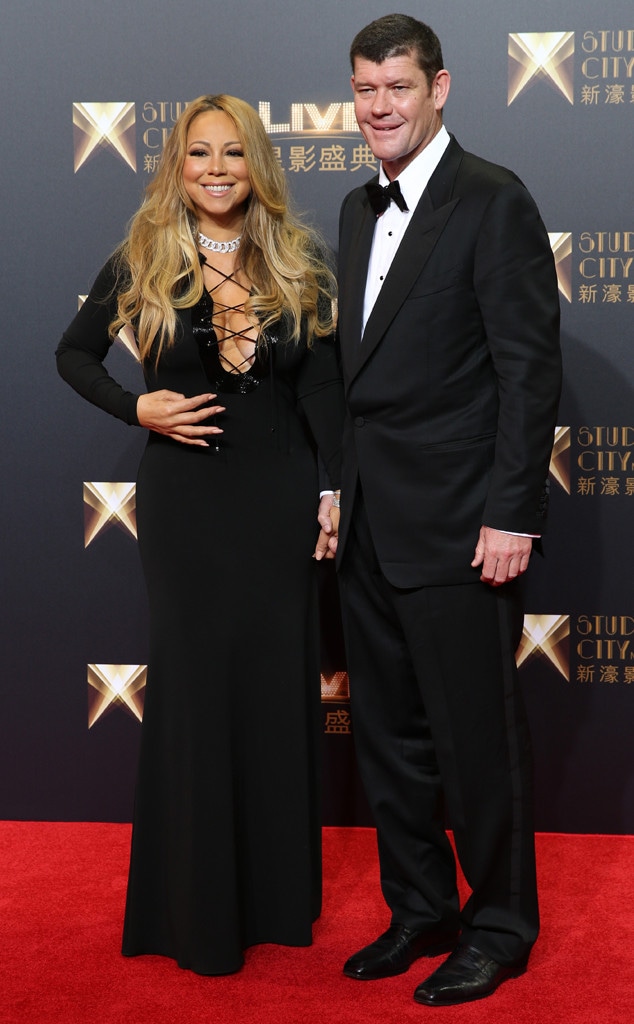 AP Photo/Kin Cheung
Wedding bells will soon be ringing for Mariah Carey and James Packer!
E! News has exclusively learned that she is engaged to the Australian billionaire businessman after a fairy tale romance.
Mariah's future hubby popped the big question in her hometown tonight, and he presented her with what can only be described as the most breathtaking engagement ring.
We're told that Mariah's new diamond bling comes in at around 35 carats and that no wedding date has been set just yet.
It should come as no surprise James got down on one knee for the multi-Grammy Award winner. Their love affair began just under a year ago and from the moment they started dating, "they fell head over heels in love with one another, " says an insider. "It's crazy how perfect they are together, they both know it and couldn't be happier."
The couple has been friends since 2014; first meet at a movie premiere in Aspen. As Mariah told Steve Harvey in November, "We were talking and laughing and people were getting mad at us and stuff like that. So, we hit it off." Harvey noted that James was a "lucky" guy, to which the singer replied, "I'm lucky, too."
"As soon as their friendship turned romantic, they have wanted to spend every moment together," says a source. "They have a connection that is unparalleled; it's been a very beautiful experience for them both. If you spend even five minutes with them, you can't help but believe in true love."
As for why they work so well. Says our insider: "They are just very cute together, they like doing sweet things for one another. They want to make each other happy."
Over the past ten months, the jet-setting pair has been on a whirlwind schedule of romantic dates spanning all over the world, from Ibiza to St Bart's to Italy and even to Packer's homeland of Australia, where they rang in the New Year with his mom at the Melbourne Crown casino, which he owns. As she took to the stage, Mariah couldn't help but gush about her love: "Spectacular, handsome ... I don't even have words for the man who introduced me tonight. We'll just say the amazing Mr. James Packer."
The most meaningful of their trips came at the end of June 2015, when James took Mariah to the Western Wall in Israel. An insider told E! at the time, "There is only one place at the Western Wall where men and woman can stand together and it was meaningful for him to take her there so that they could share this very intimate moment as a couple."
Another source added, "It was more a spiritual journey then anything. He is aware Carey has the world at her fingertips but he likes to find things that she has never experienced."
Next month, Mariah will start the third leg of her sell out Las Vegas residency at Caesars Palace, before embarking on a world tour. James is expected to join her for most of her dates as well as continue working on his philanthropy work (he is currently on track to donate $200 million to charities in just 10 years).
This will be the third marriage for both. Mariah is mom to 4-year-old twins, son Moroccan Cannon and daughter Monroe Cannon, with Nick Canon, while James has three children: Indigo Packer, 7, Jackson Packer, 5 and Emmanuelle Packer, 3.
For more details on the couple's romantic engagement, watch E! News tomorrow at 7 and 11.