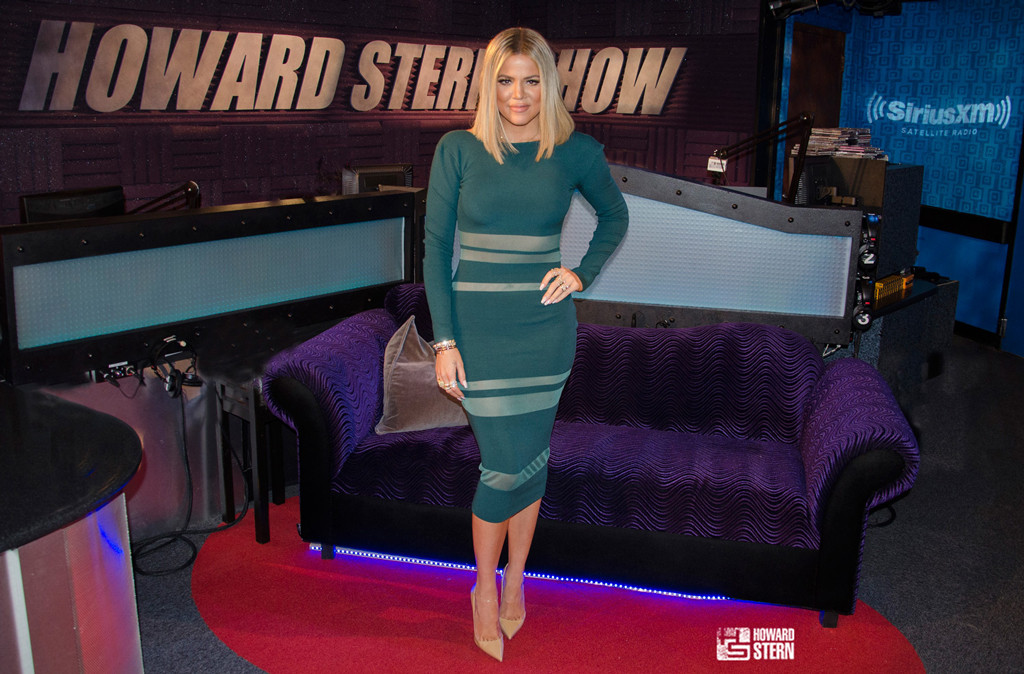 Courtesy Howard Stern
While Khloe Kardashian got serious talking about things like Lamar Odom's cheating scandal, her weight loss and feeling "betrayed" by Caitlyn Jenner during her interview on The Howard Stern Show Wednesday, she also got to chatting about some, er, lighter topics—like sex, vajayjays, boob jobs and the list goes on…
Yes, the 31-year-old reality star went there several times with Stern, getting pretty darn dirty while chatting about some of her raunchiest personal facts that we never knew before.
Here are 11 of the naughtiest things she revealed about herself:
1. She decided not to wear a bra or underwear to the interview: When Stern asked if she was wearing anything underneath her dress, she replied, "I'm not wearing [panties] right now, or a bra…I was going to wear spanx."
2. She wants a boob job: Khloe swears she's never had plastic surgery, but she is planning to get a boob job in the future as she wants to be bigger than a C cup. "I want cleavage," she explained. "I think I will get a boob job for sure, but I can always remove them when I'm older."
3. She has a "puffy p---y:" She explained about her camel toe issue, saying, "I'm not embarrassed by it…but everyone else is. It's the blueprint to my…It's a puffy p--s! You know how some girls can wear leggings and you don't see anything, and I'm like, 'Where is it? Like where the f--k is your vagina?'" Despite being puffy or not, she swears she's "never had any complaints."
Courtesy of Khloe Kardashian
4. She knows the secret to the best blow job: She revealed, "The secret to a great blow job is saliva, saliva, saliva, and use your hands at the same time. And if you can't have saliva, make sure you drink a lot of water."
5. Her best friends Malika and Khadijah Haqq are "spinners:" She told Stern, "My best friends are two girls that I've known since they I've been 15 years old. They're f—king hot, and they're little spinners," she said. "You can spin them on your d—k. You plop them down and you spin them around."
6. She maintains a landing strip: After Stern asked if she shaves down there, Khloe responds, "No. I have a little bit. I don't have a bush, but I have a little landing strip or whatever. But I do laser."
7. Penis size matters to her but it's not everything: "I don't want anyone with an eeny, tiny one. But if you know what you're doing then you still know what you're doing. There's more to it than just f--king that matters to women."
8. She walked away from a guy who was too small down there once: Though she said size isn't everything, she admitted, "I've dated someone, and we made out. And over the pants, I did not really feel much of anything so I just ended the night."
9. She knows she has "DSL" (d--k sucking lips) and she uses lasers to plump them: She told Stern, "Instead of getting injections, I believe in laser treatments. They will literally plump up your lips." She's proud that her upper lip is just as big as her lower lip.
10. She's open to anal sex: When asked whether she enjoys that type of intercourse, Khloe admitted, "It depends…Yeah [I'm open to it.]" When Stern asked if it hurts, she responded with a giggle, "It depends."
11. She has a specific type of man she dates and she doesn't care what you think: "I have a type. I've never been with anybody but a black man…I lost my virginity [to a black man] really, really young. I was like 14 or 15."
So there you have it! We bet you never thought you'd learn so much about KoKo, now did you?
For more from her Howard Stern interview (yes, there's more) head here.
Check out an all new Keeping Up With the Kardashians Sunday at 9 p.m.
Related:
Khloe Kardashian Wants to Use Breast Pump?!